Podoliak: Negotiations are paused for several reasons
Tuesday, 17 May 2022, 14:06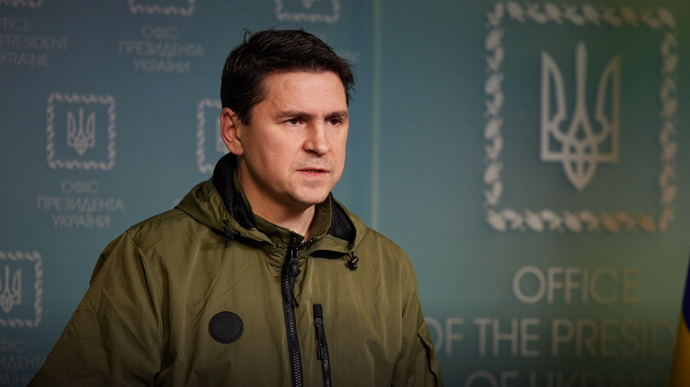 IRYNA BALACHUK - TUESDAY, 17 MAY, 2022, 2:06 pm
Mykhailo Podoliak, Adviser to the Head of the Ukrainian President's Office, confirmed that talks with Russia are currently on pause for a number of reasons.
Source: Podoliak in a comment to the media
Advertisement:
Quote: "The negotiation process is really on pause. Why? There are several reasons. Russia is not displaying the key component - understanding of today's processes in the world and of its [Russia's] extremely negative role therein.
Secondly, Russia does not understand that whichever way you look at it, the war is no longer progressing according to Russia's rules, schedule or plans. Ukrainian resistance is only growing and it is a professional resistance. Therefore, Russia will not achieve any of its goals."
Details: Podoliak named the third reason as Russia being unable to give up propaganda in the domestic market and, as a result, the political elite being afraid to tell the truth. In particular, they [refuse to face the] fact that Russia will now have to withdraw from the war on "completely different conditions than were originally stated."
Because of this, according to the representative of the Ukrainian President's Office, Russia prefers to continue negotiations as a tool of its propaganda for domestic consumption only.
Podoliak is also convinced that "Russia would like to see in action all the packages of international economic sanctions and finally comprehend the true 'combat capability' of its army, as well as lose the remnants of its reputation."
"This, in my opinion, is the strategic goal of the Russians: all or nothing. Therefore, it makes no sense to prevent the fall of this bizarre 'empire'.
Today it is not a question of whether the Ukrainian delegation should "exit or not exit" from the negotiation process, but only a matter of expediency and specifics at this stage. There will be specifics - political negotiations will continue," Podoliak summed up.
Previously: Earlier, the Russian Foreign Ministry declared that negotiations with Ukraine have stalled because Kyiv has de facto withdrawn from the negotiation process.