In the Donbas, the Armed Forces bombed the occupiers' crossing of the Siverskyi Donets
Sunday, 22 May 2022, 20:26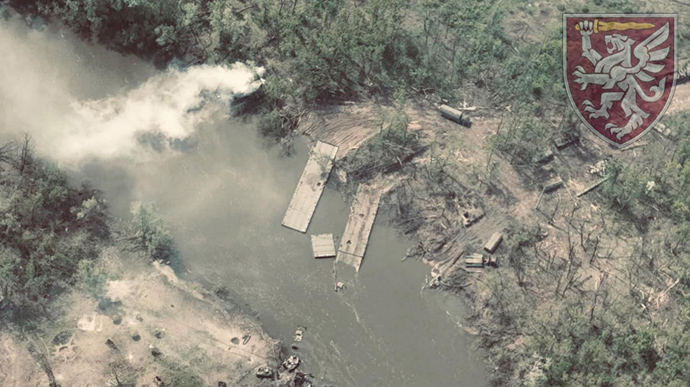 DENYS KARLOVSKYI - SUNDAY, 22 MAY 2022, 20:26
In the east of Ukraine, Ukrainian artillerymen, thanks to border guards' intelligence, destroyed the pontoon crossing of the Russian occupiers while a Russian tank was moving along it.
Source: Ministry of Internal Affairs
Advertisement:
Quote: "Aerial reconnaissance of the State Border Guard Service of Ukraine found that the occupiers had established a pontoon crossing over the river. Having built a pontoon bridge, they were going to transport about a dozen units of armoured vehicles.
The timely transfer of information to the artillerymen of the Armed Forces of Ukraine made adjustments to the plans of the invaders and an accurate shot destroyed the crossing together with the Russian tank, which was on it at that time."
Details: The Russian occupiers together with the surviving Infantry fighting vehicles and tanks tried to escape from the fire of the Armed Forces. However, thanks to a drone, Ukrainian artillerymen killed several dozen Russian occupiers and destroyed several units of their equipment.
Background:
On 13 May, the Armed Forces of Ukraine reported that they had thwarted nine Russian attempts to build a pontoon crossing across the Siverskyi Donets.
Ukrainian defenders also showed the consequences of the unsuccessful attempts of the Russians to establish a pontoon crossing near Bilhorivka in the Luhansk region, more than 70 units of Russian armoured vehicles burned as a result of artillery strikes of the Armed Forces. Of the 550 servicemen in the Russian brigade, 485 were killed.