Russian army attack Nikopol again: 30 shells, 2 dead, 9 injured
Wednesday, 20 July 2022, 07:45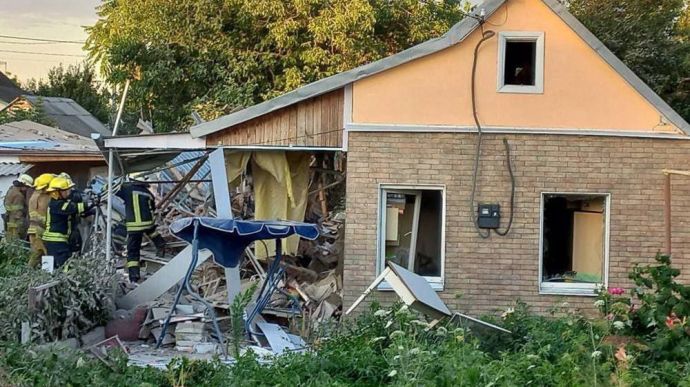 OLENA ROSHCHINA — WEDNESDAY, 20 JULY, 07:45
Russian occupying forces shelled Nikopol again last night, firing more than 30 shells from Grad multiple-launch rocket systems: private houses have been destroyed and damaged, two people have been killed, and nine others have been injured.
Source: Yevhen Yevtushenko, head of the Nikopol District Military Administration; Valentyn Reznichenko, head of the Dnipropetrovsk Oblast Military Administration
Advertisement:
Details: At 02:42 on the night of 19-20 July, Yevtushenko reported that the city of Nikopol was under fire.
Reznichenko later stated that "the Russian horde has not stopped terrorising the Nikopol district."
Quote from Reznichenko: "A residential area in Nikopol has been deliberately shelled using Grads. More than 30 rockets were fired.
Preliminarily, two people have been killed and nine have been injured. Six victims are in hospital, including four children. The youngest injured person is only three years of age! Three years old! The child who was sleeping at home when the Russian scoundrels struck the kid using Grads.
Three private houses have been completely destroyed by shelling, and dozens have been damaged."
Details: As of 07:00, rescue workers are continuing to clear the rubble and find out the scale of the destruction.
Undetonated ammunition is scattered around the city. Bomb disposal experts are at work.
This is at least the third day in a row that Russian troops have attached Nikopol with rocket artillery. Earlier it was reported that they had insidiously installed Grads on the site of the Zaporizhzhia nuclear power plant, which makes it impossible to strike back.
Pivden [South] operational command reported in the night briefing that the Russian occupying forces continued to shell Nikopol the day before: the port infrastructure and the coast were attacked with 20 rockets. There were no casualties.
On Monday evening, the Russian army hit the port and two industrial enterprises in Nikopol, damaging a residential building, an outbuilding and electricity networks.