Zelenskyy: Iran is lying that it does not sell drones to Russia, there is an agreement for thousands of them
Saturday, 22 October 2022, 19:40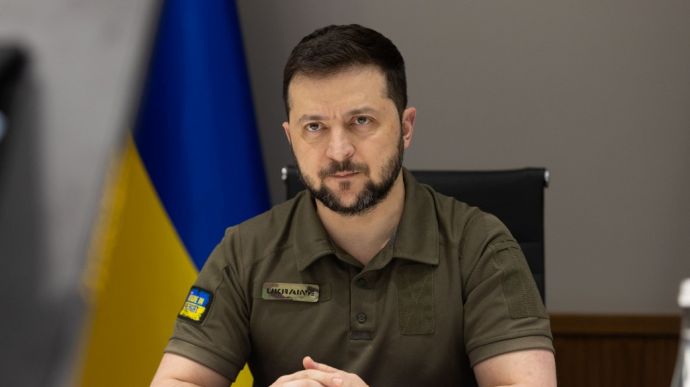 KATERYNA TYSHCHENKO — SATURDAY, 22 OCTOBER 2022, 19:40
President Volodymyr Zelenskyy said that Iran is lying when it says that it does not supply drones to Russia.
Source: Zelenskyy in an interview for Canadian TV channels CTV and CBC
Advertisement:
Quote: "Iran supplies them (the Russians – ed.) with drones, supplies them with the murder of Ukrainians; this is their agreement for money. This is blood money that Iran is earning. They can say: 'We did not take anything, show financial calculations…' We're speaking precisely - Iran is supplying drones that have killed Ukrainians and keep killing. Not one, not two, not five, but hundreds. We know that agreements about thousands (of drones -ed.) exist. We know it for sure. But hundreds are already here.
We cannot trust them. They may tell their society that they didn't sell anything, but that's a lie, a pure lie. They are killing our people."
Details: Zelenskyy stressed that he does not trust the leadership of Iran.
He recalled when a Ukrainian UIA aircraft was downed by a missile in Iran in January 2020, resulting in the death of 176 people. The President noted that at first Iran denied any involvement in the disaster, but later was forced to admit it, however claiming that it was an accident.
"But apart from an apology, they didn't do anything. They said that there will be compensation for families, support for families who have lost their loved ones. They said it at the leadership level... and what did they do? They did nothing, zero, they did nothing to help," Zelenskyy said.
According to him, Ukraine had information from its intelligence, as well as partner intelligence sources, that "Iran trades Shahed drones and missiles with Russia, etc.", but Iran had denied everything.
"And here we see hundreds of strikes in Ukraine, at the Capitol, civil infrastructure, at schools, at the university, and the shutting down of our energy system so our people can't get through the winter," Zelensky stated.
Journalists fight on their own frontline. Support Ukrainska Pravda or become our patron!