Twelve bodies found after Russian rocket strikes on Zaporizhzhia
Friday, 7 October 2022, 14:28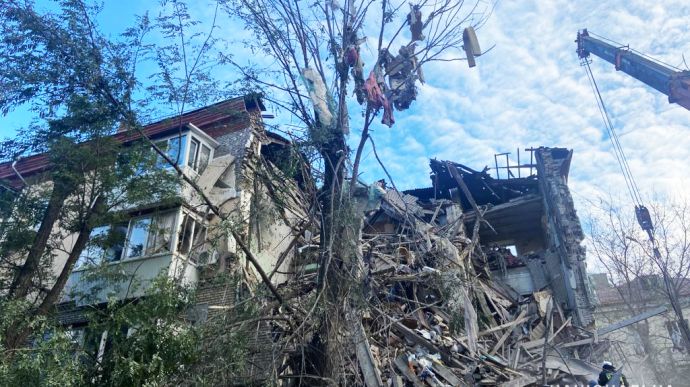 OLENA ROSHCHINA – FRIDAY, 7 OCTOBER 2022, 14:28
The bodies of twelve people have been found after Russian rocket attacks on Zaporizhzhia on 6 October. As a result of a night attack by drones, two civilian infrastructure facilities were destroyed.
Source: Department of Communication of the National Police in Zaporizhzhia Oblast
Advertisement:
Details: On 6 October, the police recorded 9 Russian attacks on the city. On the night of 7 October, the Russian occupiers conducted two more strikes, using kamikaze drones. Residential, civil and critical infrastructure of the city centre suffered damage and came under Russian fire.
Over the past day, the police registered about 30 reports of damage in the administrative and district centres of Zaporizhzhia Oblast. Private and high-rise buildings, cars, shops, medical and educational institutions, a public transport stop and other infrastructure facilities came under fire by the occupiers.
As of now, 12 people are known to have been killed.
Another 12 citizens were hospitalised in the city's medical facilities, including two children. Policemen, rescue workers and specialised services continue to work at the scene of the strikes.
In addition to the attack on the centre of Zaporizhzhia Oblast, settlements in the Polohiv district came under Russian fire as well. Russian attacks using MLRS and artillery were recorded in Orikhiv, Huliaipole and nearby villages.
On the night of 7 October, for the first time, the Russian invaders used drones against the civilian population of Zaporizhzhia. Two civilian infrastructure facilities were destroyed as a result of the attack. Preliminary reports indicate that attacks were conducted using Shahed-136 kamikaze drones.
Zaporizhzhia police are urging citizens: "In case you hear a rumble in the sky, similar to the sound of a scooter or a chainsaw engine, go immediately to shelters and observe personal safety measures".
The police and the Security Service of Ukraine in Zaporizhzhia Oblast opened criminal proceedings for the war crimes committed by the Russian Federation, invoking Art. 438.2 of the Criminal Code of Ukraine: "Violation of laws and customs of war".
Journalists fight on their own frontline. Support Ukrainska Pravda or become our patron!