We will do everything to win this year – Zelenskyy
Friday, 24 February 2023, 08:48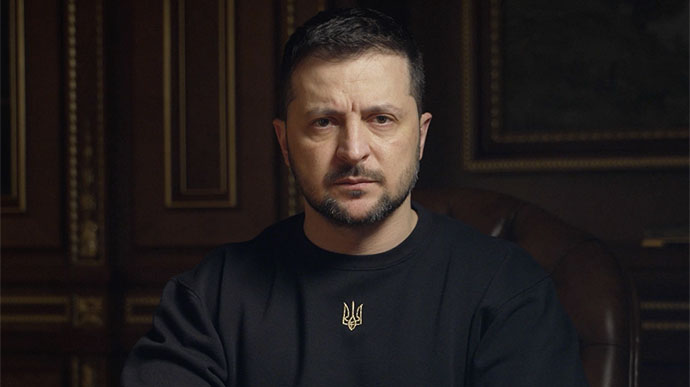 President Volodymyr Zelenskyy has promised to do everything to gain victory this year, and that the Russian murderers will be punished for their crimes.
Source: Zelenskyy's address on the anniversary of the Russian full-scale invasion
Quote from Zelenskyy: "We withstand all threats: shelling, cluster bombs, cruise missiles, kamikaze drones, blackouts, and cold. We are stronger than that.
Advertisement:
It was a year of resilience. A year of care. A year of bravery. A year of pain. A year of hope. A year of endurance. A year of unity. The year of invincibility. A fierce year of invincibility.
Its main result is that we have survived. We have not been defeated. And we will do everything to gain victory this year!"
Details: Zelenskyy has recalled how a year ago he recorded his first short address to the people, how Ukrainians did not get scared and lined up at the military enlistment offices as well as the offices of Ukraine's Territorial Defence Forces to defend their land.
How they fought courageously every day, "fiercely fought for every day" and how they continue to fight courageously "for every tomorrow".
The president thanked all those who are resisting and all those who are helping Ukraine resist the aggressor.
Zelenskyy recalled a series of Russian crimes that horrified and continue to horrify the world and the daily feats of Ukrainians that showed the world what Ukraine is capable of.
The president also mentioned "the first offensives, the first achievements, the first liberated territories", and the first unification of world leaders who decided to support Ukraine.
Zelenskyy noted that this war changed each and every Ukrainian and brought them a lot of pain because "in fact, every Ukrainian lost someone in the past year".
Quote from Zelenskyy: "We will not erase their names from the phone or from our own memory. We will never forget them. We will never forgive that. We will never rest until the Russian murderers are brought to justice. The punishment of the International Tribunal. The judgement of God. Of our warriors. Or all of them together.
The verdict is obvious. Nine years ago, the neighbour became an aggressor. A year ago, the aggressor became a torturer, looter and terrorist. We have no doubt that they will be held accountable. We have no doubt that we will win."
Details: The president also promised to do everything he can to bring home every prisoner and every Ukrainian who is currently forced to stay abroad.
Journalists fight on their own frontline. Support Ukrainska Pravda or become our patron!