Belarusian partisans sabotaged in Machulishchy
Sunday, 26 February 2023, 20:41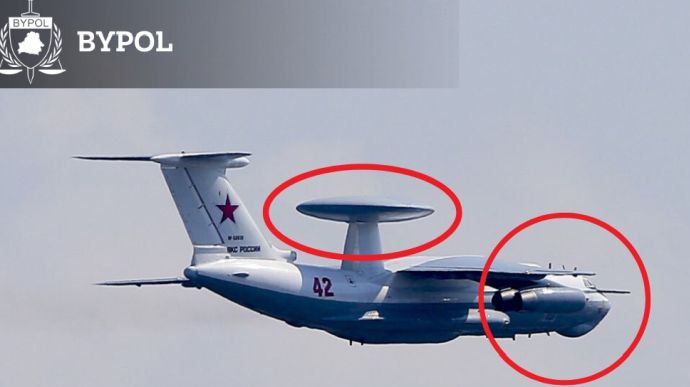 Belarusian partisans are involved in sabotage at the Machulishchy airbase in Belarus, as a result of which a Russian military aircraft was damaged.
Source: Alexander Azarov, Head of the BYPOL initiative in comments for Nasha Niva and Belsat; Belaruski Hajun [an independent Belarusian military monitoring media outlet]
Details: Azarov confirmed to Nasha Niva that the sabotage in Machulishchy was arranged by Belarusian partisans.
Advertisement:
Azarov said in a comment to Belsat that the Russian A-50 aircraft was attacked from the air. The attack was conducted with the help of drones by the members of the "Victory" plan, they are safe now. According to Azarov, the operation was being prepared for several months.
Quote from Azarov: "These were drones. The participants of the operation are Belarusians, participants of the Victory plan, they are safe now outside the country. Everyone has gone, let them now look for wind in the field."
More details: According to BYPOL, the front and central parts of the aircraft, the avionics and the radar antenna of the A-50 long-range radar tracking aircraft of the Russian Air Force were damaged as a result of two explosions.
As Belaruski Hajun reported, the registration number of the damaged plane is RF-50608 (board number 43 red" factory number 0093479377, serial number 60-05).
This aircraft arrived in Belarus on 3 January 2023 and has currently been in Belarus for 54 days, making 12 flights. Before this, the previous time, the aircraft arrived in Belarus on 24 February 2022.
There are only nine such aircraft in the air and space forces of the Russian Federation, in addition, there are only six improved ones (with the "U" modification).
One such aircraft is served by 19 people (five for flight, 11 for the radio and three engineering and technical personnel).
According to Belaruski Hajun, the cost of such an aircraft is $330,000,000.
Background: Explosions occurred at the Machulishchy airbase in Minsk Oblast in Belarus on Sunday morning. There is information about a damaged Russian aircraft.
Journalists fight on their own frontline. Support Ukrainska Pravda or become our patron!