NATO to accelerate deployment of up to 300,000 soldiers on eastern border
Sunday, 19 March 2023, 10:47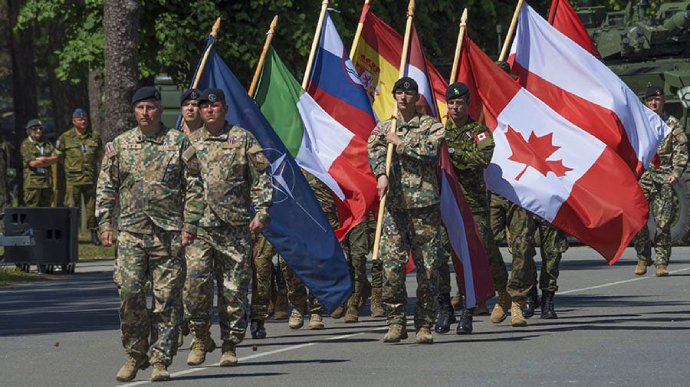 In the coming months, NATO will intensify its efforts to concentrate weapons along the eastern border of the alliance and to allocate tens of thousands of soldiers who can go to help allies at a moment's notice.
Source: European Pravda, citing Politico

Details: For this to happen, however, NATO must convince individual countries to provide various elements: soldiers, training, infrastructure improvements, and, most importantly, large quantities of expensive weapons, equipment, and ammunition.
With countries already worried about their ammunition stockpiles and Ukraine in dire need of additional shells and weapons from its allies, there is a risk that not all NATO allies will fulfil their promises to contribute to the alliance's new plans.
Advertisement:
According to the news outlet, military leaders will present updated regional defence plans designed to help redefine how the alliance protects its 1 billion citizens this spring.
Troop levels will be significant: officials say up to 300,000 NATO troops will be needed to implement the new model.
According to Heinrich Brauss, a former NATO assistant secretary general for defence policy and force planning, the first echelon, which could consist of about 100,000 soldiers ready to deploy within 10 days, could be formed from Poland, Norway and the Baltic States (Estonia, Latvia and Lithuania). It could also include multinational battle groups that the Alliance has already established on its eastern flank.
A second echelon of troops would support these soldiers, ready to deploy from countries like Germany within 10 to 30 days.
But the process could prove difficult because such a rapid deployment, even within a month, requires a lot of people, equipment, training, and lots of money.
When NATO's military plans are ready, capitals will be asked to weigh in, and ultimately provide troops, planes, ships and tanks for different parts of the plan.
"We are asking the nations — based on the findings we have out of our three regional plans — what we need to make these plans … executable," said the senior NATO military official.
Some Allies have already recognised that much more investment will be needed to meet NATO's needs.
Journalists fight on their own frontline. Support Ukrainska Pravda or become our patron!