Putin says Russia will deploy nuclear weapons in Belarus
Saturday, 25 March 2023, 18:41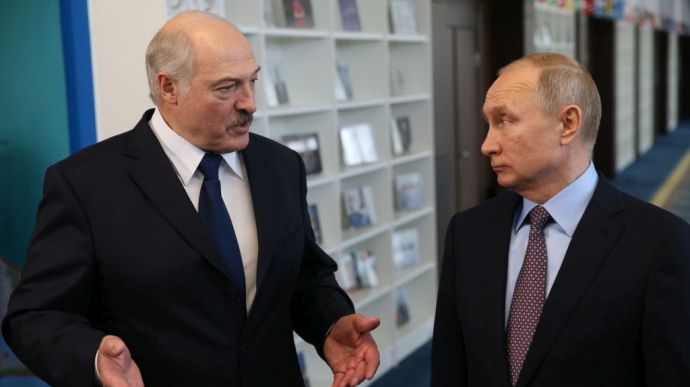 Moscow and Minsk have agreed to deploy tactical nuclear weapons on the territory of Belarus.
Source: Russian President Vladimir Putin in an interview with journalist Pavel Zarubin on Russia 24 propaganda channel, report propaganda news outlets RIA Novosti and TASS
Details: Putin clarified that the construction of the storage facility will be finished on 1 July. He assures that weapons will be deployed without violating the obligations under the Security and Defence Policy.
Advertisement:
According to Putin, the reason for such a step was the statement of the UK about the supply of depleted uranium rounds to Ukraine.
Quote: "As for our negotiations with Alexander Grigoryevich Lukashenko [the self-proclaimed president of Belarus – ed.], the reason was the statement of the Britain Deputy Minister of State for Defence [Annabel Goldie] that they are going to supply Ukraine with depleted uranium rounds, which is somehow related to nuclear technologies.
Alexander Grigoryevich Lukashenko has long raised the question of deploying Russian tactical nuclear weapons on the territory of Belarus, even outside the context of these events and such a statement."
"We have sent to Belarus our well-known, very effective Iskander [operational-tactical missile – ed.] systems; it can also be a carrier. We will start training the crew from 3 April and we will finish the construction of a special storage facility for tactical nuclear weapons on the territory of Belarus on 1 July."
More details: Putin also said that Russia has an answer regarding depleted uranium rounds.
"I must say that Russia, of course, has something to answer with. We have, without exaggeration, hundreds of thousands, literally hundreds of thousands, of such rounds. We are not using them yet," said the president of the aggressor country.
Journalists fight on their own frontline. Support Ukrainska Pravda or become our patron!