Ukraine's Deputy Minister of Defence states counteroffensive actions are underway in Eastern Ukraine
Wednesday, 19 April 2023, 14:00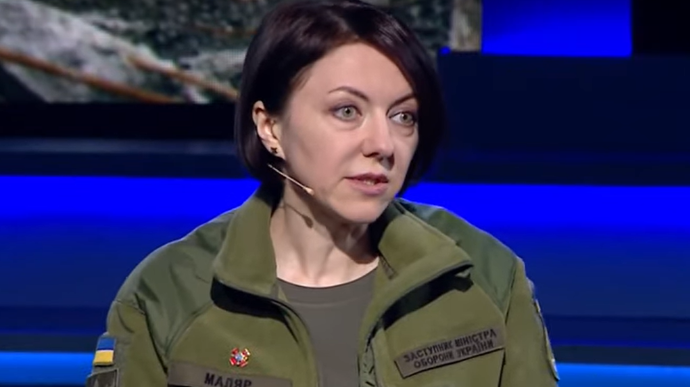 Hanna Maliar, Ukraine's Deputy Minister of Defence, says that counteroffensive should not be boiled down to particular large-scale advances and dates. The official notes it is a variety of measures and certain counteroffensive actions of the Armed Forces of Ukraine that are already taking place in Eastern Ukraine.
Source: Maliar on air during the national 24/7 news broadcast
Quote: "We shouldn't publicly boil down the counteroffensive to particular large-scale advances, because we are talking about the strategic goal of the Armed Forces of Ukraine to free all our territories. We aim at freeing our territory and stopping the enemy in their advances.
Advertisement:
That is, to speak of the counteroffensive in such a narrow manner is not right. It is a colossal variety of actions and measures done by the Armed Forces. It is first and foremost the preparation of personnel for a number of actions, both offensive and defensive. But all of this together, if we were to speak of our strategic goal, can be called counteroffensive actions.
This includes preparation of personnel and creation of reserves, outlining the tactics (Plan A, B, and C, because there cannot be just one action plan, as the enemy is reacting as well).
We have to understand that such decisions are taken in a very short period of time, not one or two months. The plan is finally selected in such a way that the enemy cannot react to it.
You have to understand that the Armed Forces of Ukraine today are not prepared for a particular line of action, but rather for a full-scale liberation of our territory, not just a counteroffensive…"
Details: The Deputy Minister of Defence stated that active assault actions in the cities of Bakhmut, Mariinka, as well as the Avdiivka and Lyman fronts could also be called elements of a counteroffensive.
According to Maliar, the Armed Forces are not discussing the counteroffensive plans publicly or even amongst each other.
She also emphasised that the plans of the Armed Forces of Ukraine depend on the ability of the Ukrainian army and information on the state of the enemy forces.
Quote: "Preparation of the Armed Forces of Ukraine for various actions of defensive and offensive nature is underway. Counteroffensive actions are already taking place in Eastern Ukraine."
Journalists fight on their own frontline. Support Ukrainska Pravda or become our patron!