Former soldier of Wagner PMC beaten up and detained by Prigozhin's mercenaries after confessing to killing children in Ukraine
Monday, 24 April 2023, 16:15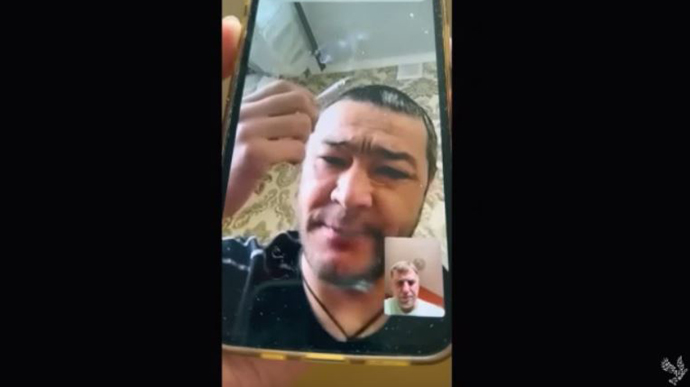 Azmat Uldarov, former mercenary of the Wagner Private Military Group [PMC], who confessed to killing Ukrainian children, was detained by Russian security services and beaten up by Wagner mercenaries.
Source: Gulagu.net, an initiative founded and managed by Russian human rights activists
Details: According to Gulagu.net, Uldarov was detained by officers of the Russian Ministry of Internal Affairs and taken to the investigative department of Saratov Oblast for interrogation. Four mercenaries of the Wagner Group were waiting for him at the entry to the investigative department and repeatedly punched him in the face in the presence of the officers, ripping off his medal and promising to kill Uldarov for his testimony against Evgeny Prigozhin and Vladimir "Iceman" Kitaev.
Advertisement:
Gulagu.net reports that the officers of the Ministry of Internal Affairs and Investigative Committee of Russia have pushed Uldarov into the department and took him to a room to "interrogate him on the crimes he witnessed." The investigators told Uldarov to turn off his mobile phone.
Quote: "The mercenaries of the Wagner terrorist group have attacked and threatened [a person – ed.] with murder near the department of the Investigative Committee of the Russian Federation; they plan to kill Uldarov on orders of Evgeny Prigozhin.
We call on the Russian government and the officials of the Investigative Committee of the Russian Federation to take comprehensive measures to organise criminal prosecution against Evgeny Prigozhin and his accomplices in regards to threats of murder directed at Azmat Uldarov, as well as take actions in order to guarantee security for Azmat Uldarov."
Background:
On 17 April, Russian Azamat Uldarov, who until recently led one of the mercenary units, in a conversation with founder of the Russian human rights project Gulagu.net, told the journalists about the terrible crimes he and other mercenaries had committed in Ukraine on the orders of the PMC leader Evgeny Prigozhin.
In particular, he confessed to killing up to 400 Ukrainians in the basement of a nine-storey building in Bakhmut, Donetsk Oblast.
The day after that, Uldarov retracted his words, accusing journalist Vladimir Osyechkin of blackmail.
Journalists fight on their own frontline. Support Ukrainska Pravda or become our patron!