Largest Russian attack with Shahed UAVs: Air defence systems destroyed 52 drones
Sunday, 28 May 2023, 07:49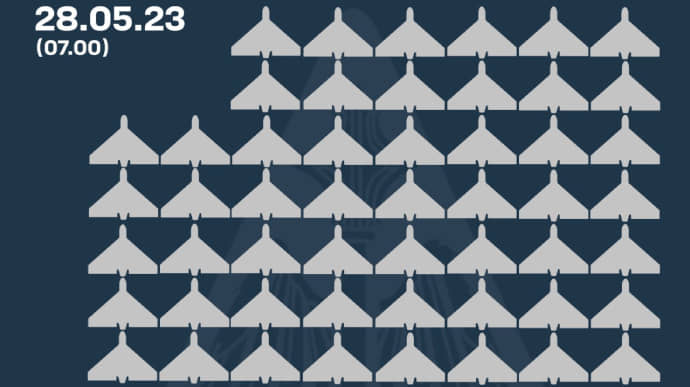 On the night of 27-28 May, Russia launched the most massive Iranian kamikaze drone attack on Ukraine: the Russians fired 54 loitering munitions, and Ukraine's air defence forces destroyed 52 of them.
Source: press service of the Ukrainian Air Force Command
Quote: "On the night of 28 May 2023, the enemy attacked Ukraine with Iranian attack drones Shahed-136/131 from the northern Bryansk Oblast and the southern Krasnodar territory.
Advertisement:
In total, a record number of 54 kamikaze drones were launched.
The Russian night attack targeted military facilities and critical infrastructure of the state in the central regions of the country, in particular Kyiv Oblast. Here, in the area of responsibility of the Air Command Centre, most of the drones were destroyed."
Details: It is noted that the forces of the Air Command South and West of Ukraine's Air Force and air defence troops of other components of the Defence Forces of Ukraine were also involved in repelling the attack.
As a result of successful combat work, 52 Shaheds were destroyed.
Background:
An air raid siren was announced in Kyiv and a number of oblasts of Ukraine on the night of 28 May. In the capital, it lasted for more than 5 hours. The air defence was working hard, Kyiv residents could not sleep due to the explosions.
The Kyiv City Military Administration reported that on the night of 28 May, according to preliminary data, more than 40 Russian drones were destroyed. The drone's falling debris in the capital caused at least one death and one injury. There is damage and destruction in the city.
Journalists fight on their own frontline. Support Ukrainska Pravda or become our patron!