Lukashenko says Russia and Ukraine could have agreed on "leasing" Crimea
Wednesday, 14 June 2023, 14:26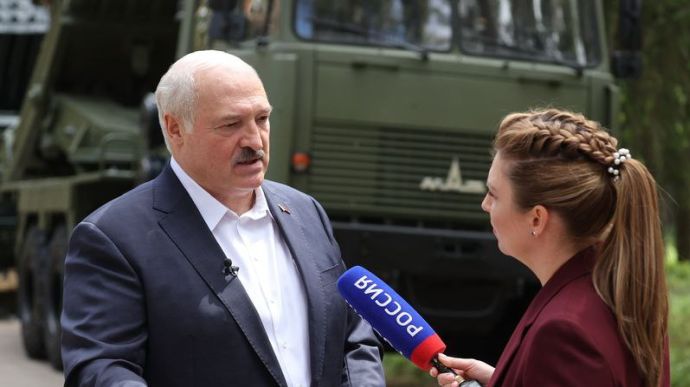 Alexander Lukashenko, the self-proclaimed president of the Republic of Belarus, has claimed that Ukrainian and Russian delegations discussed the possibility of "leasing" Crimea during negotiations in March 2022.
Source: Belta, a Belarusian news outlet, quoting Lukashenko in an interview with Rossiya-1, a pro-Kremlin Russian TV channel
Quote from Lukashenko: "Putin has given me a document that was initialled by both delegations. It's alright, even with regards to Crimea – there was some sort of a lease involved; as for Donbas, in the east…It's an alright agreement.
Advertisement:
Would be great to have it now – but it's impossible now. Now these are constitutionally Russian territories. Back then, it was a decent plan, and [the sides] agreed that the Ministry of Foreign Affairs would initial it and then the heads of states would decide and sign it, and so on. It was a good idea, but they rejected it."
Details: Lukashenko made these remarks when commenting on the negotiations between the Russian Federation and Ukraine that were held soon after the beginning of Russia's full-scale invasion.
Lukashenko claimed that his younger son Nikolay helped organise a phone call with Ukrainian President Volodymyr Zelenskyy; following a long conversation with Lukashenko, Zelenskyy allegedly agreed to hold negotiations with Russia in Belarus. Later, Lukashenko said, Western countries insisted that the negotiations be held in Istanbul, Türkiye.
The Belarusian leader said that his son Nikolay was currently studying at Beijing University, and continueed to push for peace talks between Russia and Ukraine.
Background:
The Russian Federation began the full-scale invasion of Ukraine on 24 February 2022. Some units of Russian forces entered Ukraine from the territory of Belarus.
Ukrainian and Russian delegations met in Belarus on 28 February, 3 March and 7 March 2022; later, the two sides continued to discuss peace proposals over video calls.
On 29 March 2022, the fourth and final round of peace talks between Kyiv and Moscow took place in Istanbul, Türkiye.
Ahead of the meeting in Istanbul, Turkish President Recep Tayyip Erdoğan said that Ukraine was ready to agree to 4 out of Russia's 6 demands – in particular, to renounce NATO membership and recognise Russian as the second official language. However, he added that Ukraine was not prepared to recognise the Russian occupation of Crimea or parts of the Luhansk and Donetsk oblasts.
Following the meeting in Istanbul on 29 March 2022, Russia said that it would radically reduce military activity on the Kyiv and Chernihiv fronts and indeed began to withdraw its forces from tge vicinities of Ukraine's capital, soon after the Ukrainian forces began to push Russian forces back.
More on this: From Zelenskyy's "surrender" to Putin's surrender: how the negotiations with Russia are going
Journalists fight on their own frontline. Support Ukrainska Pravda or become our patron!