Russia holds sham trial of 22 Azov Brigade members – Associated Press
Thursday, 15 June 2023, 11:06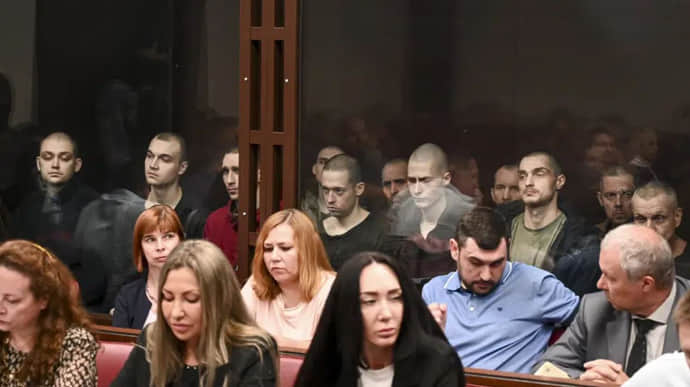 The Russian city of Rostov-on-Don has hosted a show trial of 22 Azov Brigade members who defended the city of Mariupol and Azovstal steelworks; eight of the defendants are women who reportedly worked as cooks.
Source: Associated Press (AP)
Details: These are members of the Azov Brigade who fought Russian invaders in Mariupol.
Advertisement:
Russian authorities have recognised Azov as a terrorist organisation.
Russia has charged Ukrainian soldiers with "participation in a terrorist organisation" and actions aimed at overthrowing the Russian-backed government in Donetsk Oblast.
Should they be found "guilty", the Russians may sentence the Ukrainian fighters for a prison mterm from 15 years to life-long sentence.
Russia transferred two of the 24 people facing charges to Ukraine in exchange for Russian prisoners of war during a recent prisoner swap.
Among the remaining 22 Azov soldiers, eight were reported to be women who worked as cooks.
Read also:

An Island of Hope: How the Azovstal defenders got out and where they are now
Note:
After 3 months of defensive fights, 2,439 soldiers left the dungeons of Azovstal on 16-20 May, 2022, hoping for an exchange between Russia and Ukraine. Some soldiers were later released from captivity.
The families of Mariupol defenders said more than 1,900 soldiers from Azovstal have been held in Russian captivity for more than a year, including more than 700 soldiers from the Azov regiment.
Journalists fight on their own frontline. Support Ukrainska Pravda or become our patron!