"Wait for the signal": Belarusian opposition leaders appeal to Belarusians
Saturday, 24 June 2023, 17:23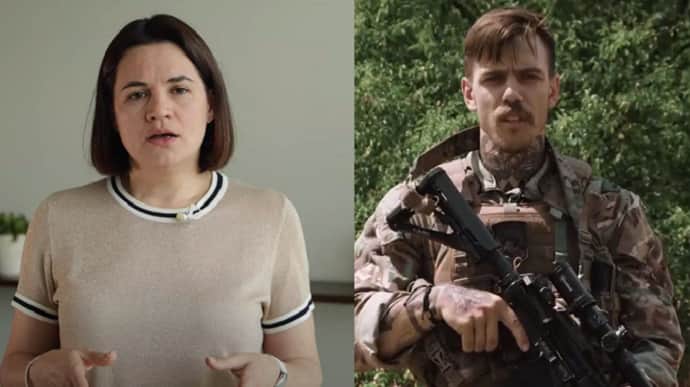 Belarusian opposition leader Sviatlana Tsikhanouskaya has called on Belarusians to not let an opportunity to save Belarus go to waste. The Kastuś Kalinoŭski Regiment, a group of Belarusian opposition volunteers defending Ukraine since the beginning of Russia's full-scale invasion, has said the military and civilians in Belarus should "wait for a signal".
Source: Sviatlana Tsikhanouskaya on Telegram; the Kastuś Kalinoŭski Regiment on Telegram (both made their appeals in Belarusian)
Quote from Tsikhanouskaya: "Putin might try to drag the Belarusian military into his own internal conflict, and make us part of this conflict. I want to call on Belarusian diplomats, the military, and law enforcement agencies to remember that we have our own national interests. Putin and Prigozhin are no friends to Belarus. You do not have to choose their side. The people of Belarus have to defend their own country.
Advertisement:
The main task for every Belarusian right now is to protect the security and sovereignty of their country. To save our country from becoming what Russia has become. We have to be prepared for any scenario.
I am also appealing to the Belarusian army: we cannot hope that Russia will leave Belarus alone. Now is the best time to throw the Russian military out of our country. If we waste this opportunity, Russia will do the same to us as it did to Ukraine."
Details: Tsikhanouskaya called for the Belarusian-Russian border to be closed. She said that she has set up an operational headquarters, which she invited representatives of Belarusian democratic agencies, volunteers, and the Kastuś Kalinoŭski Regiment to join.
Meanwhile, the Kastuś Kalinoŭski Regiment have issued their own address.
Quote from the Kastuś Kalinoŭski Regiment: "The right conditions for overthrowing the dictatorship are approaching. This is the beginning of the end of the great tyranny. I am appealing to everyone in the Belarusian military: do not take part in Russia's internal conflict; their civil war is not our business.
Time is nigh for Belarusians to make a choice: to comply with criminal orders or to remain faithful to Belarusian people.
We have a reserve in Belarus – military and civilians who are prepared to liberate Belarus from occupation. We will need people to take decisive action. Join self-defence battalions. Every city, every street has to be prepared to control its territory and support order.
Soldiers, reservists, Belarusians, wait for our signal."
Journalists fight on their own frontline. Support Ukrainska Pravda or become our patron!