Service hub for Ukrainian Leopard tanks launched in Poland
Saturday, 22 July 2023, 23:58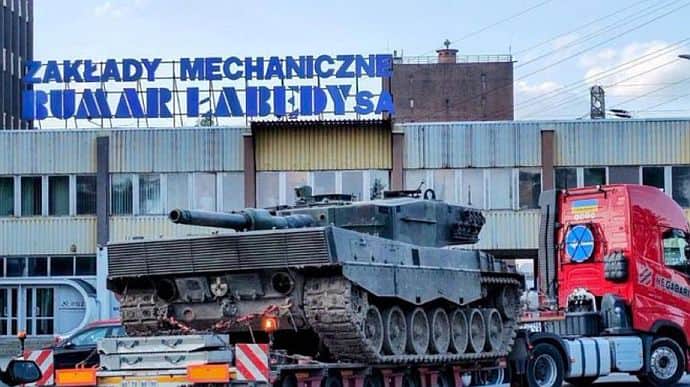 A maintenance and repair hub for Leopard 2 tanks received by Ukraine was opened at the Bumar-Łabędy plant in Gliwice.
Source: Mariusz Błaszczak, Polish Defence Minister, on Twitter, reports European Pravda
Hub remontowy w Gliwicach rozpoczął działalność! Dwa pierwsze Leopardy już przyjechały z Ukrainy do zakładów Bumar. pic.twitter.com/VvfZSzh7Jx

Advertisement:

— Mariusz Błaszczak (@mblaszczak) July 22, 2023
Details: According to him, "the first two Leopard tanks have already arrived from Ukraine to the plant."
Background:
Earlier, Poland authorities stated that negotiations with Germany on the opening of a service centre for Leopard tanks received by Ukraine are ongoing, and the Polish side remains fully prepared to take the vehicles for repair.
Before that, the German media reported earlier that Germany intends to break off negotiations on the creation of a service centre for Leopard tanks in Poland. According to Handelsblatt, the reason for this decision was the inflated price expectations from the Polish side.
The centre was supposed to open at the end of May. After talks with Defence Minister Mariusz Błaszczak in April, his German counterpart Boris Pistorius said both sides had reached the final stage of implementation.
Journalists fight on their own frontline. Support Ukrainska Pravda or become our patron!