Lukashenko threatens Poland with Wagnerites: They want to go to West
Sunday, 23 July 2023, 11:53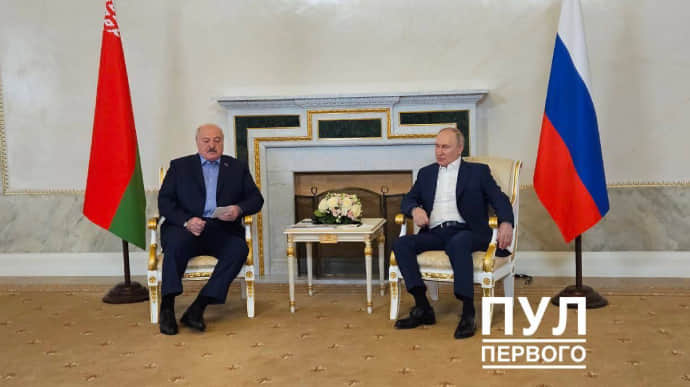 Alexander Lukashenko, the self-proclaimed President of Belarus, has said that the Wagner Private Military Company (PMC) fighters are "stressing him out" because they want to attack Poland.
Source: Lukashenko at a meeting with Russian dictator Vladimir Putin in St. Petersburg, quoted by his press service
Quote from Lukashenko: "Maybe I shouldn't say it, but I will: we are starting to get stressed out by the Wagnerites. They're asking to go west: "Let us go!" And I'm telling them: "Why do you need to go to the west?" So they did it on the sly… We know what's going on. Well, we'll go on a trip to Warsaw and Rzeszów.
Advertisement:
But they can't handle Rzeszów. They know where the [military] equipment was coming from when they were fighting in Bakhmut. They've internalised this: Rzeszów means trouble. Of course, I keep them in central Belarus, as was agreed. I wouldn't want to transfer them there. Because they're not in good spirits. And, to give credit where credit's due, they know what's happening all around the Union State." [The Union State, or Union State of Russia and Belarus, is a supranational union consisting of Belarus and Russia, with the stated aim of deepening the relationship between the two states through integration in economic and defence policy - ed.]
Details: At the same time, Putin has said that he can see Ukraine's counteroffensive, but "it has failed".
Their meeting is expected to last for two days.
Lukashenko also stated that the alleged "dismemberment of Ukraine" was unacceptable to him.
Update: The media reported that Lukashenko took a map to the meeting with Putin showing the transfer of Polish troops to the borders of the NATO member state one brigade at a time, not far from Brest and Grodno in Belarus.
For reference: Last time, Lukashenko showed a map of Ukraine's alleged attack "from four positions", and this became a meme.
Background: The State Border Guard Service of Ukraine states that there are approximately 5,000 Russian mercenaries from the Wagner Group in Belarus as of 22 July.
Journalists fight on their own frontline. Support Ukrainska Pravda or become our patron!