UAV attacks Moscow City business centre once again
Tuesday, 1 August 2023, 03:58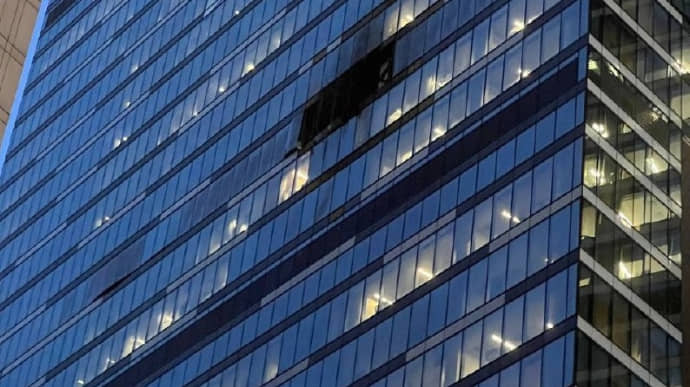 Drones attacked the Russian capital on the night of 31 July-1 August, one of them hitting the Moscow City business centre.
Source: TASS, a Kremlin-aligned Russian news outlet; Shot Telegram channel; Sergei Sobyanin, Mayor of Moscow, on Telegram; Astra Telegram channel
Quote from Sobyanin: "Several drones were shot down by air defence systems while trying to reach Moscow. One flew to the same tower in the City as last time. The façade at the 20th floor level has been damaged. Emergency services are working at the scene."
Details: Russian media outlets and Telegram channels shared videos showing the moment the drone hit the business centre.
Smoke is reported to have risen near Moscow City after the explosion, and glass shattered in the building.
Telegram channels also reported the sound of explosions in the towns of Kubinka and Odintsovo, Moscow Oblast.
It is claimed that the drones in Moscow Oblast were targeted by Russian air defence forces.
The Russian Ministry of Defence later confirmed the drone attack. The ministry claimed that there were three UAVs in total.
The Russian authorities said that two drones were destroyed by air defence systems over the territory of the Odintsovo and Naro-Fominsk districts of Moscow Oblast, and another drone was downed by electronic warfare means and crashed into the territory of the Moscow City non-residential building complex.
Shot Telegram channel stated that 150 "squares" of glazing on the Moscow City business centre building have been damaged.
It is noted that the Ministry of Economic Development of the Russian Federation is located on the 20th floor of the tower of the building attacked by the drone.
At the same time, Russian news agency TASS reported that operations at Moscow's Vnukovo airport have been temporarily suspended due to the drone attack, and planes are being redirected to other airports.
Background: A drone had previously hit the building of the Moscow City business centre on the night of 29-30 July.
Ukrainska Pravda is the place where you will find the most up-to-date information about everything related to the war in Ukraine. Follow us on Twitter, support us, or become our patron!