​​France does not recognise Russia's annexation of occupied Ukrainian territories – Macron
Wednesday, 23 August 2023, 18:50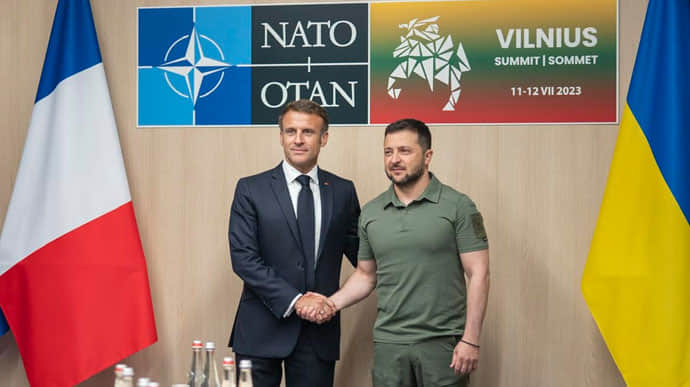 Official Paris continues to consider Russia's "appropriation" of Crimea and other occupied territories of Ukraine to be categorically illegal, French President Emmanuel Macron said.
Source: European Pravda, referring to Macron's statement in a remote speech at the summit of the Crimean Platform
Details: The French president emphasised that Russia's annexation of Crimea and Sevastopol was completely illegal and violated the basic principles of international law, and the situation on the peninsula has been steadily deteriorating since then.
Quote from Macron: "I want to make it clear once again before all of you, next to you: France does not recognise either Russia's annexation of the territories of Ukraine or the results of the sham elections organised there."
Details: The French mass media noted that this could be an indirect response to the words of former French President Nicolas Sárközy, who recently called the prospects for the return of Crimea "illusory".
Macron expressed his respect and solidarity with Ukrainians amid all the hardships and suffering during the full-scale war and condemned Russian strikes on civilian targets, calling them war crimes.
He also emphasised that France remains by the side of the Ukrainians "on Ukraine's European path" and in the Ukrainians' desire for "just and lasting peace, that is, peace with respect for international law".
Macron specifically condemned Russian strikes on grain export infrastructure after Russia pulled out of the Black Sea Grain Initiative: "All those who were still hesitating now have evidence that Russia never really wanted to offer a solution to one of the direct consequences of this war (the threat of food crisis - ed.)".
The president of France also recalled that the EU and Ukraine are looking for ways to continue exporting Ukrainian grain to the countries of the Global South.
Background:
Ukrainska Pravda is the place where you will find the most up-to-date information about everything related to the war in Ukraine. Follow us on Twitter, support us, or become our patron!