First draft law equating corruption with high treason submitted to Ukrainian Parliament
Wednesday, 30 August 2023, 12:08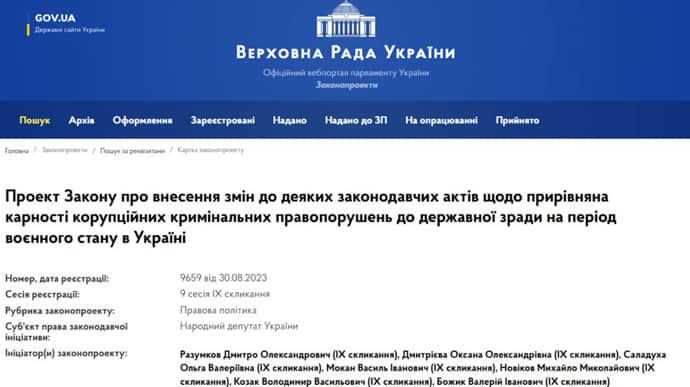 The Ukrainian Parliament has registered a draft law equating corruption with high treason during wartime. The authors of the bill are lawmaker Dmytro Razumkov and his Rozumna polityka (Smart Politics) party faction in the Ukrainian parliament, although a few days ago, President Volodymyr Zelenskyy said he would submit the entire corruption-treason bill to the parliament.
Source: lawmaker Dmytro Razumkov on Facebook; Yaroslav Zhelezniak, a lawmaker from the Holos (Voice) party faction, on Telegram
Quote from Razumkov: "The Smart Politics team has registered draft law No. 9659, supplementing the [Ukrainian] Criminal Code with Article 111-3 and equating the punishment for corruption with the punishment for high treason during martial law. Corrupt officials will face 15 years behind bars or life imprisonment with confiscation of property."
Advertisement:
Details: Razumkov said Ukraine's National Anti-Corruption Bureau, the Specialised Anti-Corruption Prosecutor's Office, and the High Anti-Corruption Court would handle the cases, not the country's Security Service.
He claimed that the current government might use the SSU to put pressure on its political opponents and cover up its own corruption cases.
The lawmaker said the draft law stipulates that every top and mid-level official can be brought to justice. These include MPs, the PM, government officials, the President's Office and the President himself.
A few days ago, President Volodymyr Zelenskyy voiced his intention to submit a draft law to parliament to equate corruption with high treason in wartime.
Meanwhile, Razumkov and his party faction in parliament submitted their own draft law, ahead of the president.
MP Zhelezniak noted that Razumkov's draft law on this issue is the first to be registered in the Ukrainian parliament, so under the regulations, the presidential bill will be considered as an alternative and only 14 days after the law from the MPs is considered.
Furthermore, Zhelezniak said Razumkov's draft law left bail as an alternative.
Razumkov explained that the bail was left in place because its absence could become "a loophole for corrupt officials to dismiss the case in our country (there is a decision of the Constitutional Court) and in the European Court of Human Rights".
Background: On 27 August, President Volodymyr Zelenskyy announced that he intended to submit a bill to equate corruption with high treason in wartime.
Ukrainska Pravda is the place where you will find the most up-to-date information about everything related to the war in Ukraine. Follow us on Twitter, support us, or become our patron!