Ukraine's Deputy Defence Minister announces liberation of Andriivka on Bakhmut front, military denies it
Thursday, 14 September 2023, 16:05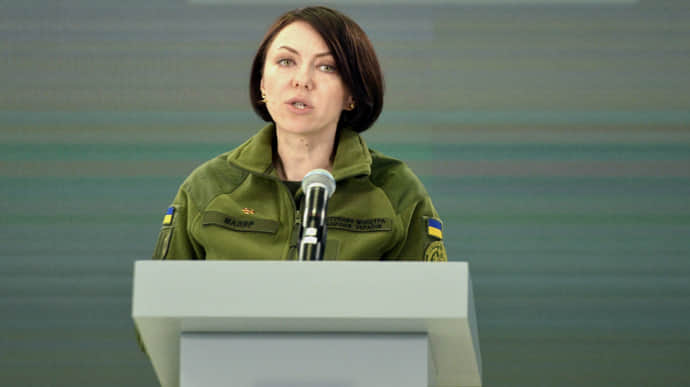 Deputy Defence Minister Hanna Maliar claimed that Ukraine's Defence Forces have liberated the settlement of Andriivka on the Bakhmut front. The command of the 3rd Separate Assault Brigade officially retracted her statement, saying it was wrong and premature.
Source: Hanna Maliar, Deputy Minister of Defence of Ukraine, on Telegram; the 3rd Separate Assault Brigade on Telegram
Quote: "Most fighting is ongoing near the settlements of Andriivka, Kurdiumivka and Klishchiivka. And there is good news. Andriivka is now ours. We are gaining a foothold on the achieved positions."
Advertisement:
Details: According to Maliar, the Armed Forces continue to move forward on the Bakhmut front. On the northern flank, the occupiers are trying to recapture lost positions.
"And we are making progress in the southern region," she added.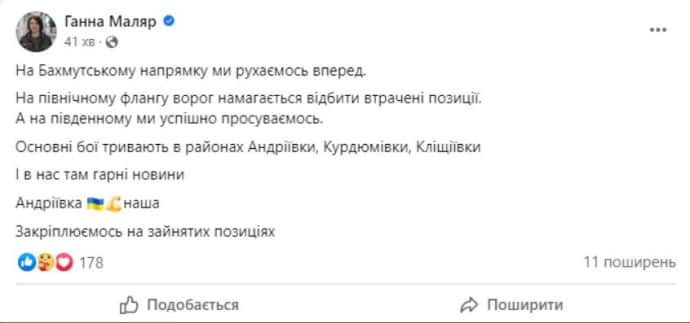 The 3rd Separate Assault Brigade has remarked that Maliar's statement was wrongful and premature.
Quote: "It is official! The statement about the liberation of Andriivka is wrongful and premature. At the moment, heavy fighting is ongoing near the settlements of Klishchiivka and Andriivka.
Such statements are harmful, pose threat to the lives of personnel and hinder combat missions."
Later, Maliar edited her message, deleting the information about liberation of Andriivka.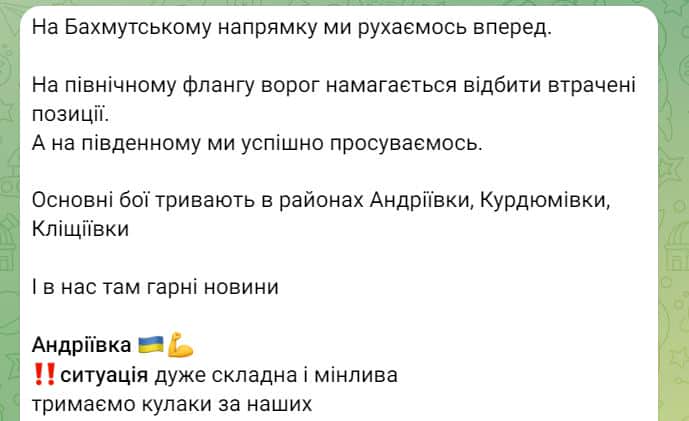 Update: Later, Maliar left another message on Telegram. She reiterated that she does not post any information of such kind without coordination and agreement from the military". She explained this particular case by writing that "a communication failure occurred between several sources of information, reporting directly from the site".
Quote: "There's certain progress in Avdiivka, and currently, heavy fighting is underway", the deputy defence minister added.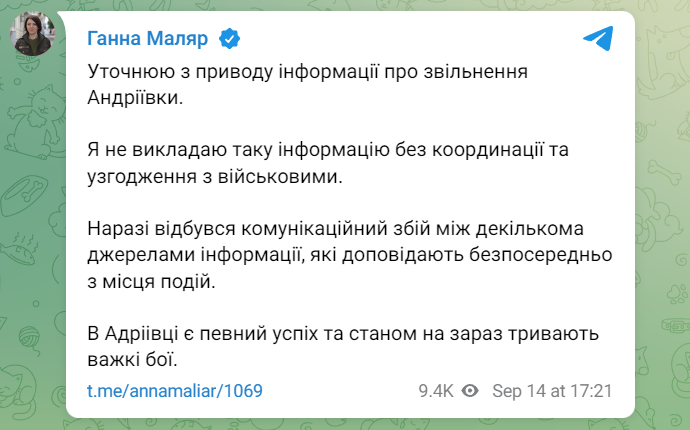 Background: On 11 September, Maliar reported that Ukraine's Armed Forces had some success near Klishchiivka and Andriivka on the Bakhmut front. Ukrainian forces on this front managed to liberate two square kilometres last week.
Ukrainska Pravda is the place where you will find the most up-to-date information about everything related to the war in Ukraine. Follow us on Twitter, support us, or become our patron!