Local authorities report explosions and fire at warehouse in Lviv; casualties confirmed
Tuesday, 19 September 2023, 05:24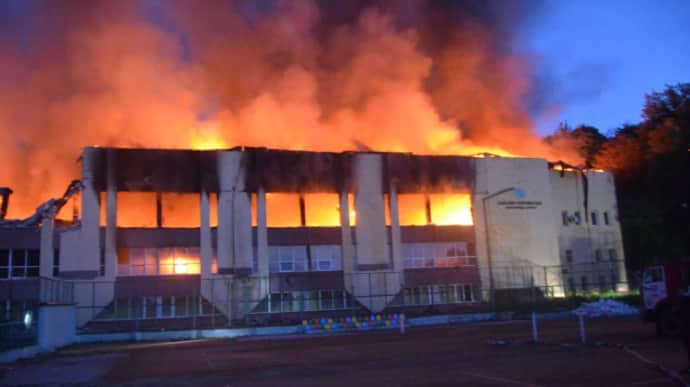 Explosions and a fire broke out in an industrial warehouse in the city of Lviv on the night of 18-19 September, injuring two people and blocking part of Horodotska Street.
Source: Maksym Kozytskyi, Head of Lviv Oblast Military Administration, on Telegram; Lviv Mayor Andrii Sadovyi on Telegram; Ukrainian Air Force on Telegram
Quote from Kozytskyi: "It's loud in some parts of Lviv. Do not mention the locations. Don't take pictures or film anything! Maintain information silence!"
Advertisement:
Details: Mayor Sadovyi reported at 04:49 that there was a threat of a second attack and that air defences were responding to the attack in Lviv. He also urged people to stay in shelters.
The Ukrainian Air Force reported that the attack UAVs were over Lviv, Ivano-Frankivsk and Khmelnytskyi oblasts: "Combat operations are underway! Do not leave your shelters!".
Sadovyi said that at 05:24, a fire broke out in an industrial warehouse after the attack on Lviv.
He said all the relevant services were heading to the scene.
The Lviv mayor reported at 05:45 that the roof of an industrial warehouse was on fire and that one person was known to have been injured.
For his part, Kozytskyi said a woman had been rescued from under the rubble of the warehouse and that she was injured: "A fire broke out in an industrial warehouse due to one of today's attacks on Lviv. At the moment, one woman has been rescued from the rubble. She is injured. The warehouse is on fire. All relevant services are working at the scene. The air raid warning is in effect! The danger of new attacks remains!"
The all-clear was sounded at 05:59.
Based on Kozytskyi's updated information, two people were rescued from the rubble in Lviv - a woman and a man. Preliminary reports indicated that the woman was not injured and that the man was in severe condition.
Sadovyi reported around 07:00 that traffic on Horodotska Street from the intersection with Paton Street to the roundabout was blocked in both directions due to the missile strike.
He said special equipment and relevant services were responding there.
Background:
Ukrainska Pravda is the place where you will find the most up-to-date information about everything related to the war in Ukraine. Follow us on Twitter, support us, or become our patron!