Pro-Russian party MP accused of treason flees to Moscow
Monday, 23 October 2023, 13:16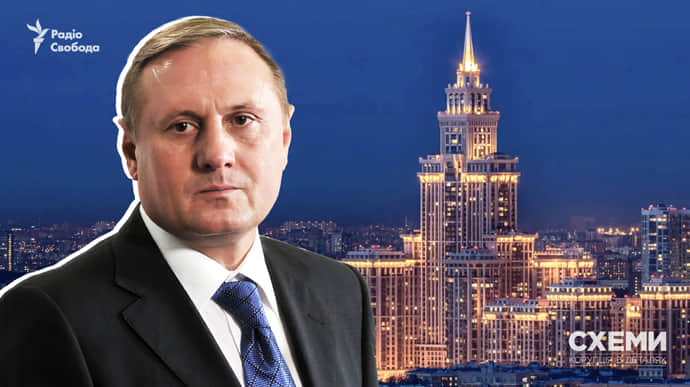 Oleksandr Yefremov, a former Ukrainian MP and former head of the Party of Regions faction in the Ukrainian Parliament, fled to Moscow after the start of the full-scale invasion of the Russian Federation. (Party of Regions is a pro-Russian party established in the 2000's; it is currently banned – ed.)
Source: Skhemy (a Radio Liberty project in Ukraine, focused on journalist investigations)
Quote: "Yefremov left Ukraine after the beginning of the full-scale invasion of the Russian Federation through Slovakia and has not returned since then.
Advertisement:
Where is he now? As our data shows, in Moscow. Before the invasion, Yefremov travelled to the Russian Federation several times – last time in February 2022.
The journalists found out that Yefremov settled in the residential complex Triumph Palace, in an elite neighbourhood in Moscow. This real estate is formally owned by his son, Ihor Yefremov. Its total area is more than 650 square metres, and the estimated cost is about US$ 4 million."
Details: Journalists called Yefremov on his Russian number. When asked what he was doing in Moscow and whether he planned to return to Ukraine, he answered: "You know, I have no plans to give any interviews now, goodbye."
In Ukraine, Yefremov is accused of a number of crimes; as the investigation reports, he contributed to the creation of the "LPR" group and helped them capture the buildings of the Luhansk Oblast State Administration and the local branch of the Security Service of Ukraine in 2014 (LPR stands for the non-recognised "Luhansk People's Republic").
He is also accused of high treason. The case against him is at the stage of judicial review.
In 2019, Yefremov was released from custody after three years in the Starobilsk pre-trial detention centre (Luhansk Oblast).
At first, the former MP was released under house arrest, and then the preventive measure was changed to a personal commitment for two months, which was not extended after that.
The Prosecutor General's Office informed the journalists that Yefremov had no preventive measure applied against him and was not on the wanted list.
The materials related to his case were to be transferred from the Starobilsk court, which is under occupation, to the Synelnykove court in Dnipropetrovsk Oblast. However, the Prosecutor's General Office did not get any information about such a transfer.
Support UP or become our patron!