Zmiinyi (Snake) Island defaced with Zs – Radio Liberty
Friday, 13 May 2022, 18:04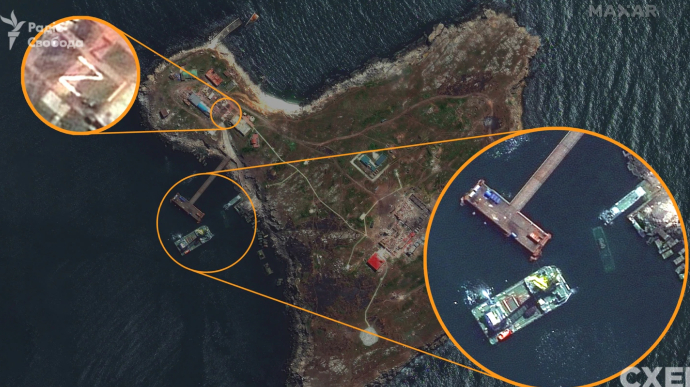 Valentyna Romanenko — Friday, 13 May 2022, 18:04
A Maxar satellite spotted Z-shaped marks on Ukraine's Zmiinyi (Snake) Island in the Black Sea. "Z" is one of the symbols of the Russian aggression against Ukraine.
Source: Radio Liberty
Details: Maxar satellite images of 12 May show large Z signs in the north eastern part of the island. These signs have notoriously been used by Russian propaganda as symbols of Russia's aggression against Ukraine, painted on Russian military equipment, and displayed by supporters of the war.
The satellite image also shows a submerged Serna-type boat and a floating crane next to it. The military boat was destroyed by Ukraine's Bayraktar drone.
Another Serna-type boat can be seen nearby.
Earlier, a similar floating crane was spotted in Hollandia Bay in Sevastopol. A Planet Labs satellite showed it in occupied Crimea on 11 May. Hollandia Bay is normally used as a base by the Russian Black Sea Fleet.
Maxar also recorded a possible missile strike on the Serna boat.
During the TV marathon on 13 May, the Head of the Main Intelligence Department of Ukraine's Ministry of Defence Kyrylo Budanov said that the fight for the strategically important Zmiinyi Island will continue for as long as necessary.
Budanov also stated that theoretically the area around Zmiinyi is the only place where the Russian military can deploy their marines to the occupied Transdniester region of Moldova.
Background: On 11 May, the British Intelligence Service reported that fighting was continuing on Zmiinyi Island, as Russia attempted to strengthen its garrison there. Ukraine was successful in its attacks on Russian anti-aircraft defences and supply boats using Bayraktars.
The Black Sea island has been under Russian occupation for over two months, being one of the first targets of the full-scale invasion that began on 24 February.