Occupying forces have already killed 227 children: 1 boy died of his injuries in Popasna
Saturday, 14 May 2022, 10:22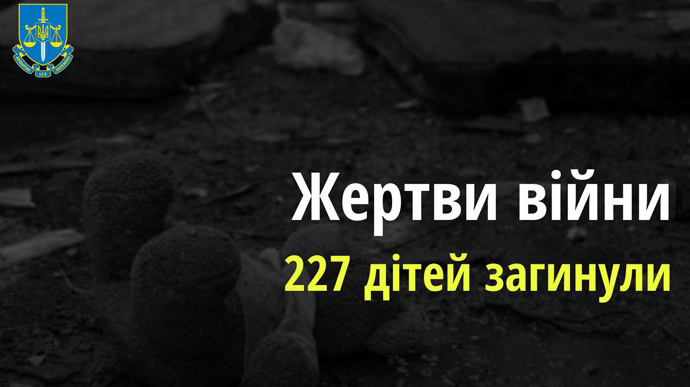 IRYNA BALACHUK — SATURDAY, 14 MAY 2022, 10:22
On 12 May, a 12-year-old boy died in hospital after being seriously injured on 1 May during the shelling of the town of Popasna in the Luhansk region. Thus, the number of Ukrainian children killed by the occupiers has increased to 227.
Source: Office of the Prosecutor General on Telegram
Quote by the Office of the Prosecutor General: "As of the morning of 14 May, more than 647 children have been injured in Ukraine as a result of full-scale armed aggression by the Russian Federation. According to official numbers, 227 children have died and more than 420 have been injured."
Details: The Prosecutor General's Office emphasised that these figures are not final, as work is underway to establish numbers in places of where there are active hostilities, in the temporarily occupied and liberated territories.
Most children were affected in Donetsk (139), Kyiv (116), Kharkiv (99), Chernihiv (68), Kherson (48), Luhansk (45), Mykolaiv (44), Zaporizhzhia (28), Sumy (17), Zhytomyr (15) Oblasts and in Kyiv (16).
Bombing and shelling of Ukrainian towns and villages by the Russian armed forces has damaged 1,748 educational institutions, 144 of which have been completely destroyed.