Russia resumes Iskander missile attacks on Ukraine from Belarus – Air Force
Saturday, 25 June 2022, 14:01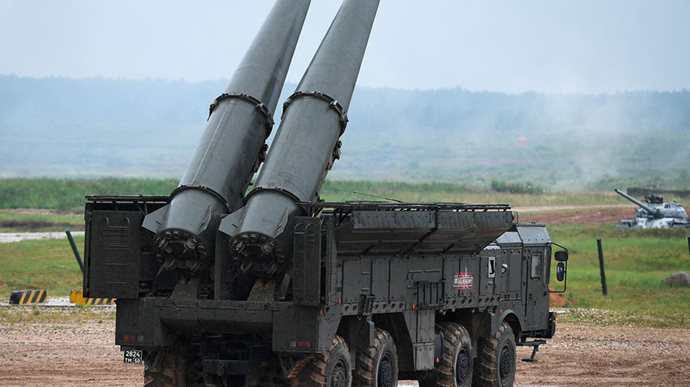 IRYNA BALACHUK – SATURDAY, 25 JUNE 2022. 14:01
Russia is once again launching missiles on Ukraine using Iskander mobile short-range ballistic missile systems stationed on the territory of Belarus. In addition, Russia has deployed Tu-22M3 strike bombers to conduct airstrikes on Ukraine from Belarusian airspace for the first time since the beginning of the full-scale invasion on 24 February.
Source: Air Force Command of the Armed Forces of Ukraine on Facebook
Advertisement:
Quote: "On the night of 25 June, Russian troops conducted a mass missile strike on the territory of Ukraine. Over 50 different missiles were launched in total, including air-based, naval and ground-based missiles.
For the first time [since the beginning of the war - ed.] the enemy deployed Tu-22M3 long-range bombers against Ukraine. In addition, the enemy has resumed its use of Iskander ballistic missile systems stationed on the territory of Belarus."
Details: The Air Force Command reports that the Russians have directed Kalibr ship-launched missiles at targets in western Ukraine.
On the northern front, Russian forces launched X-22 missiles from Tu-22M3 planes and fired ground-to-ground missiles from Iskander and Tochka-U missile systems.
On the southern front, Russian occupying forces launched Oniks missiles from a Bastion missile system.
The Air Force Command of the Armed Forces of Ukraine said that X-22, Oniks and Iskander missiles are extremely difficult to intercept using the air defence systems at Ukraine's disposal.
This is due to the fact that the speed of Oniks and X-22 missiles reaches over 3,000 km/hour, and Iskander missiles have a ballistic trajectory. It is very difficult and rare for the air defence systems available in Ukraine to intercept those missiles.
Nevertheless, Ukraine air defence systems have been able to intercept some of the missiles launched by the Russian occupying forces.
Previously:
Earlier, British intelligence reported that from early June, Russia's top command is likely to remove several generals from key operational command positions in the war in Ukraine. It was noted that the command of the Southern Military District will probably now pass to Colonel General Sergei Surovikin. The Southern Military District continues to play a central role in Russia's offensive in Donbas.