Kupiansk-Vuzlovyi settlement liberated in Kharkiv Oblast, 6% of Kharkiv Oblast still under occupation
Tuesday, 27 September 2022, 13:58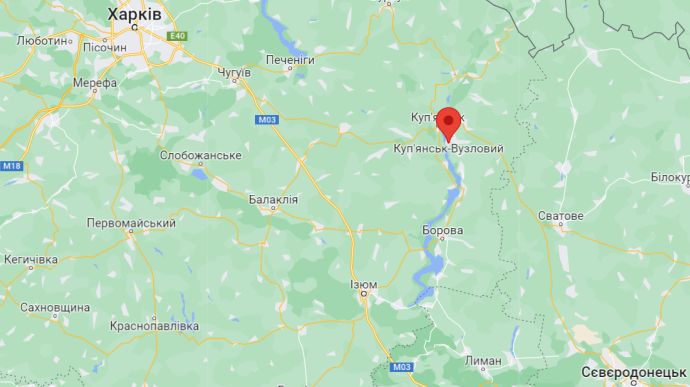 OLENA ROSHCHINA – TUESDAY, 27 SEPTEMBER 2022, 13:58
Oleh Syniehubov, the Head of the Kharkiv Oblast Military Administration, has confirmed that the village of Kupiansk-Vuzlovyi, located on the bank of the Oskil river, has been liberated from the occupiers.
Source: Oleh Syniehubov, on the 24/7 national newscast on 27 September, Kyrylo Tymoshenko, the Deputy Head of Office of President of Ukraine
Advertisement:
Quote: "6% of Kharkiv Oblast is still temporarily occupied. At the moment, this percentage has decreased [now that Kupiansk-Vuzlovyi has been liberated – ed.].
They (Russians) have a few primary fronts that are quite important for them: the Izium front, the so-called Izium Height – this is the route they used to transfer their military equipment to the territory of Donetsk and Luhansk oblasts to enhance their military presence there; and, of course, Kupiansk-Vuzlovyi, which is one of the biggest logistical railway routes on the territory of Kharkiv Oblast.
This route was under Russian control since the first hours of the full-scale invasion, and the occupiers put much effort into its defence. Thanks to a successful military operation, the Armed Forces of Ukraine took the route back under their control and now control it completely".
Details: Syniehubov stated that liberating every metre of Ukrainian territory "costs a lot of effort because the enemy doesn't retreat and is constantly trying to regroup and deploy reserves".
He confirmed that Russians continue to launch attacks on Kharkiv Oblast, particularly Kupiansk. Yesterday, 9 people were killed and 5 people were injured.
For the last three days, it has been relatively quiet in Kharkiv.
According to Kyrylo Tymoshenko, as of 27 September, 454 settlements have been liberated in Kharkiv Oblast.
Background: Yesterday, on social media it was reported that the village of Kupiansk-Vuzlovyi was liberated.
On 26 September, the General Staff of the Armed Forces of Ukraine indirectly confirmed this in the evening report, stating that on the Slobozhanske front, Russian forces launched attacks on the villages of Kucherivka, Petropavlivka, as well as Kupiansk-Vuzlovyi. All these settlements are located on the left bank of the Oskil river.
Earlier, Hanna Maliar, the Deputy Minister of Defence, reported that from 6 to 14 September, Ukrainian forces liberated nearly 8,500 square kilometres, 388 settlements and 150,000 people in Kharkiv Oblast.
Journalists fight on their own frontline. Support Ukrainska Pravda!