Chechen leader claims his 3 sons took part in hostilities in Ukraine
Thursday, 20 October 2022, 09:31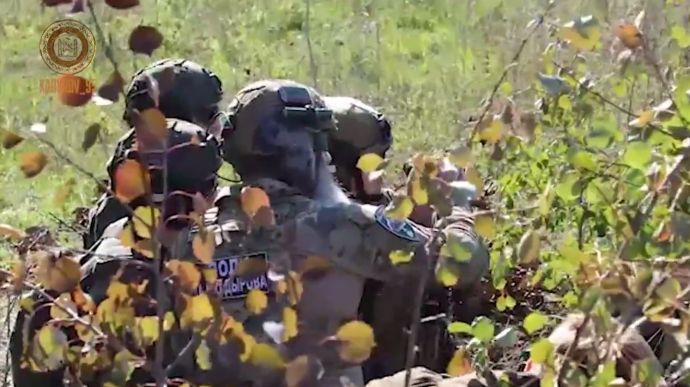 THURSDAY, 20 OCTOBER 2022, 09:31
Ramzan Kadyrov, the leader of the Chechen Republic [a federal entity of the Russian Federation - ed.], has claimed that his three sons, aged between 14 and 16, had visited the front in Ukraine and participated in hostilities.
Source: Kadyrov_95 Telegram channel; Meduza, a Russian media outlet
Advertisement:
Quote from Kadyrov: "Akhmat, Eli and Adam have visited the line of contact where fierce battles with Ukrainian nationalists are currently underway. As befits Chechen warriors, they immediately set to work."
Details: Kadyrov claimed that his three sons and Zamid Chalaev, the commander of the Akhmat-Khadzhi Kadyrov Special Police Regiment, "got close to the enemy positions and provided fire cover for the advancing soldiers."
Akmat, Eli and Adam also allegedly addressed the "Chechen-speaking shaitans" [evil spirits in Islam - ed.] who fight on Ukraine's side, inviting them to "appear on the front and prove their commitment to European values in battle."
Kadyrov additionally claimed that his sons "have spent several days actively searching for Ichkerian battalions as part of a delegation from the Chechen Republic, and visited places of deployment and frontline positions of the Chechen forces." ["Ichkeria" refers to the Chechen Republic of Ichkeria, which the Ukrainian parliament has recently recognised as an independent state illegally occupied by Russia; Russia considers the Chechen Republic one its federal entities - ed.]
"However, their expectations were not destined to come true. The grandchildren of Akhmat-Khadzhi remained at their positions until they repelled another counterattack undertaken by the Nazis," Kadyrov added.
He released a video which allegedly proves that Akmat, Eli and Adam were at the front in Ukraine; the video shows the three boys shooting in a forest.
It should be noted that according to the Geneva Convention, children cannot be combatants. States Parties [to the Convention - ed.] must take all possible measures to ensure that persons under the age of 15 do not take direct part in hostilities.
Earlier, a video was published showing Kadyrov's children in uniform in Mariupol accompanied by heavy security.
Previously: Ramzan Kadyrov said that he would send his underaged children to the front in Ukraine in October since it was "time for them to prove themselves in battle." He claimed that his sons underwent military training from a young age.
A video of Kadyrov's sons in military uniform accompanied by a heavy security detail in the city of Mariupol has also been released.
Journalists fight on their own frontline. Support Ukrainska Pravda or become our patron!