IRIS-T ñomes through baptism of fire and proves extremely effective
Friday, 21 October 2022, 12:46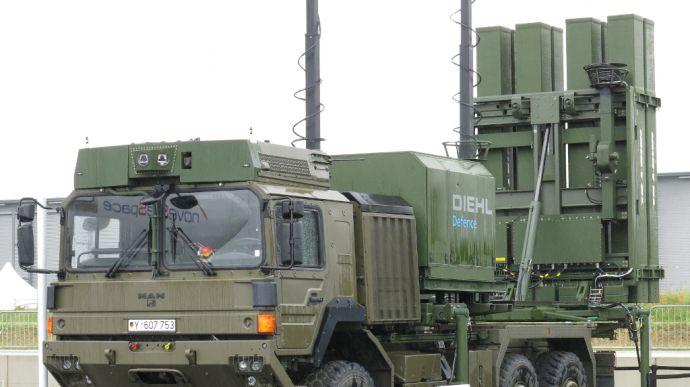 OLENA ROSHCHINA — FRIDAY, 21 OCTOBER 2022, 12:46 PM
The first of the German IRIS-T anti-aircraft missile systems, received by Ukraine, has performed well during the recent attacks by the Russian army.
Source: Yurii Ihnat, Spokesperson for Air Force Command of the Armed Forces of Ukraine, at a briefing on 21 October
Advertisement:
Details: Yurii Ihnat noted that IRIS-T (Infra-Red Imaging System Tail/Thrust vector-controlled) is a powerful German missile system. Ukraine has received its upgraded version.
"The only drawback is that there are few of them. It is expected that the German industry will gain momentum to increase production so that Ukraine receives as many of these complexes as possible... one of these systems is already operating in Ukraine," Ihnat said.
He did not say where and how this system is being deployed, because IRIS-T is target number one for the Russian occupiers, along with HIMARS. But he shared the first results [of IRIS-T's work – ed.].
Quote: "In the recent attacks that we had, the IRIS-T performed extremely well. The information received about the baptism of fire of this complex shows that it has passed the test of its capability and effectiveness in combat conditions. This information will be submitted to the German side, which will take it into account.
We will receive several more launchers in the coming months, which will slightly strengthen - not much, but they will strengthen - [Ukraine's air defences - ed.]. The complex has eight launch containers. Even one launcher equipped with eight missiles is already quite a powerful tool that can destroy aerial targets: missiles and UAVs that have been launched at us recently."
Details: Ihnat added that there are training programmes available in the West, but under combat conditions, the training offered is an accelerated one.
Ihnat said military personnel of the anti-aircraft missile forces are now training on NASAMS systems, which are to be delivered in Ukraine.
Background:
On 12 October, the Minister of Defence of Ukraine, Oleksii Reznikov, reported that Ukraine received its first IRIS-T air defence system from Germany.
On 14 October, the spokesman for Ukrainian Air Force Command, Yurii Ihnat, reported that the IRIS-T air defence system is already in active use by the Armed Forces of Ukraine in the country's south.

Journalists fight on their own frontline. Support Ukrainska Pravda or become our patron!