Russia uses WWII "wave" system of mobilisation – Defence Intelligence
Monday, 24 October 2022, 14:51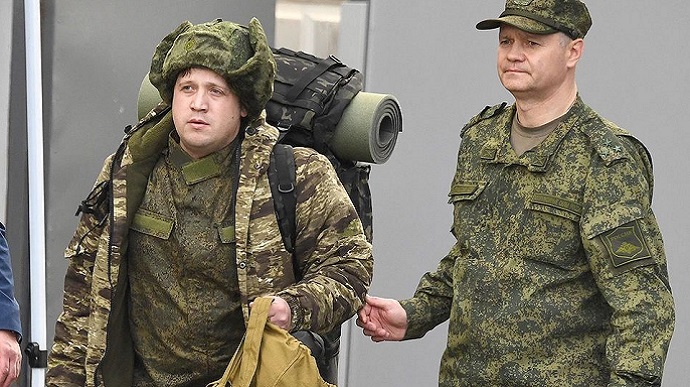 MONDAY, 24 OCTOBER 2022, 14:51
At least 200,000 people have been conscripted into Russia's Armed Forces during the "first wave" of mobilisation. Mobilisation is set to continue "according to the typical WWII scenario".
Source: Ukraine's Defence Intelligence
Advertisement:
Details: The first group of conscripts have been deployed in Ukraine with minimal training or without any training at all in order to stabilise the situation on the front. Further groups of conscripts will be deployed depending on further developments in operational circumstances and, whenever possible, with regard to the training completed by the conscripts.
Information obtained by Ukraine's Defence Intelligence indicates that conscripts from the second, third and subsequent "waves" of mobilisation will join the hostilities on the basis of this scenario.
Defence Intelligence also reported that despite the claims that "partial" mobilisation has been completed, in Moscow persons liable for military service are continuing to receive call-up notices at their places of residence and work. At the same time, however, the Russian government has shuttered the so-called "mobile mobilisation points" and "raids" on persons liable for military service carried out in public spaces have ceased.
The training of conscripts expected to be deployed to Ukraine is ongoing at training grounds in Moscow Oblast. The shortage of officers and non-commissioned officers has meant that the positions of platoon instructors and training instructors are being filled by soldiers with the rank of private who have combat experience in Ukraine.
Background:
Russian Defence Minister Sergei Shoigu said in September that 300,000 reservists would be conscripted under Russia's "partial mobilisation".
On 18 October, the press secretary for the Russian president, Dmitry Peskov, said that no more than 300,000 people would be conscripted.
Russian journalists learned that Russia plans to draft 1.2 million people into its army as part of the mobilisation, and not 300,000.
On 14 October, Russian President Vladimir Putin claimed that the partial mobilisation would be completed by the end of October and that 222,000 Russians have been conscripted since 21 September.
Journalists fight on their own frontline. Support Ukrainska Pravda or become our patron!