Zelenskyy: It's time for Israel to decide whose side they are on
Monday, 24 October 2022, 18:06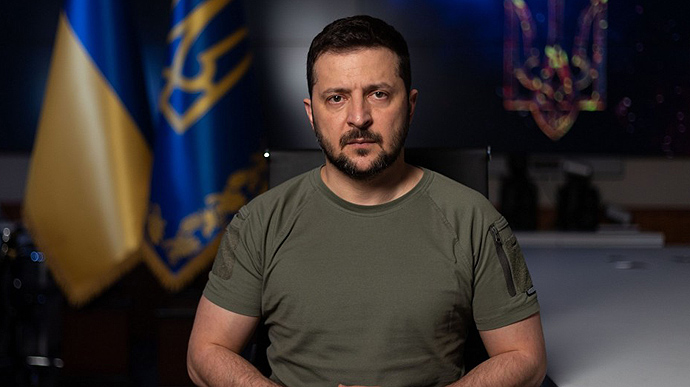 IRYNA BALACHUK – MONDAY, 24 OCTOBER 2022, 18:06
President Volodymyr Zelenskyy has urged Israel to decide whose side they are on and start to help Ukraine.
Source: Zelenskyy's speech to Haaretz Democracy Conference
Advertisement:
Quote from Zelenskyy: "I sincerely thank you [Israel - ed.] for the Democracy Award with which you have recognised our struggle.
But isn't it time for your state to choose who you are with? [Are you] with the democratic world, which is fighting side by side against an existential threat to its existence? Or with those who turn a blind eye to Russian terror even when the price of continued terror is the complete destruction of global security?"
Details: Zelenskyy expressed confidence that Israel would give fair answers to his questions, as they are not about politics, but about values.
He also reminded his audience that a number of partners are already helping or may help to protect Ukrainian skies. However, Israel is not one of them. Zelenskyy added that Ukraine has been asking Israel for help since 2014.
He emphasised that Ukrainians will not give up their struggle, because they want "simple and clear things: to liberate their land, guarantee the safety of their people, and bring peace to Ukrainians."
The President expressed confidence that Ukrainians will continue to protect and defend Ukraine and its freedom, as well as the common freedom of all democratic countries.
"I thank the people of Israel for the understanding and help, especially the medical aid, that we have received from your society! I thank you and all the Israeli media that spread the truth about this war. Thanks to all of your people who took to the streets after the full-scale war began, [when] we saw that we had support from the Promised Land. I believe that we will see support in the sky as well," Zelenskyy concluded.
For reference: Haaretz is one of Israel's leading and oldest media outlets and is an authoritative voice not only at the national level, but also throughout the democratic world.
Background:
On 16 October, Israel's Minister of Diaspora Affairs, Nachman Shai, said that since Iran is transferring ballistic missiles to Russia, Israel should provide military aid to Ukraine, as the United States and NATO countries are doing.
The following day, Dmitry Medvedev, Deputy Chairman of Russia's Security Council, said that the provision of military aid to Ukraine by Israel would destroy all relations between Israel and Russia.
On 18 October, the Israeli newspaper Haaretz reported that a telephone conversation between Israeli Defence Minister Benny Gantz and his Ukrainian counterpart Oleksii Reznikov had been scheduled for 24 October, but it was cancelled.
On 19 October, Israeli Defence Minister Benny Gantz said that Israel would not supply Ukraine with weapons to counter the Russian invasion, but could provide an early warning system for approaching missile strikes or drone strikes.
On 20 October, Ukraine's Foreign Minister Dmytro Kuleba had a telephone conversation with Israeli Prime Minister Yair Lapid. They discussed Iranian-made drones and military aid to Ukraine.
Journalists fight on their own frontline. Support Ukrainska Pravda or become our patron!