Zelenskyy outlines Ukraine's 10-point "formula for peace" at G20 summit
Tuesday, 15 November 2022, 07:22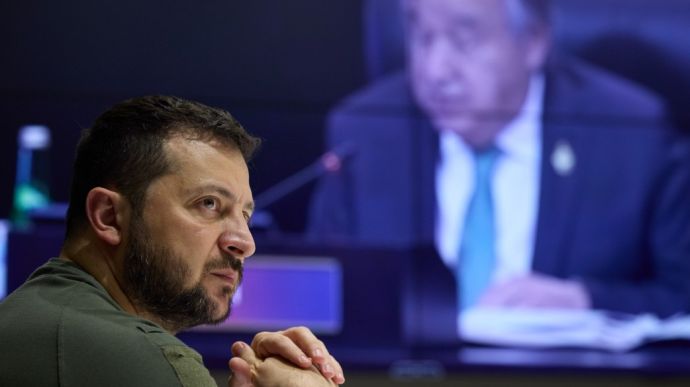 Ukrainian President Volodymyr Zelenskyy has outlined 10 proposals that comprise Ukraine's "formula for peace" in his video address to the G20 summit in Bali.
Source: President Zelenskyy's G20 address
Quote from Zelenskyy: "In order to liberate our entire land from the Ruscists [sic], we have to continue fighting for a while… Fighting! However, if the victory will be ours in any case – and we are sure of it – then should we not try to implement our formula for peace to save thousands of lives and protect the world from further destabilisation?
Advertisement:
That is why I want to present our vision of the path to peace, how it might be possible to actually achieve it. And not only for us, but also for all of you, and for your allies and partners."
Details: Zelenskyy said that Ukraine has put forward a set of solutions "that need to be implemented" and that he wants the conversation about those solutions to be public, rather than take place behind closed doors. He further added that the solutions have to be "discussed in specific terms, and not in broad strokes."
He stated that he wants "this aggressive Russian war to end justly and on the basis of the UN Charter and international law," and not hastily or haphazardly.
Quote from Zelenskyy: "Ukraine should not be offered to compromise its conscience, sovereignty, territory, and independence. We respect the rules and we keep our word. Ukraine has always been a leader in peacekeeping efforts, and the world has witnessed it. And if Russia claims that it wants to end this war, let it prove its words with actions.
It is obvious that Russia's words cannot be trusted, and [that is why] there will be no Minsk-3 agreement, which Russia would violate immediately after signing.
If no concrete actions to restore peace are undertaken, it means that Russia simply wants to deceive all of you again, to deceive the world and freeze the war just as its defeats have become particularly apparent.
We will not allow Russia to wait it out, build up its forces, and then start a new series of terror and global destabilisation. I am convinced that now is the time when the Russian destructive war must, and can be, stopped."
Details: Ukraine has outlined the following 10 propositions:
Radiation and nuclear safety.
Food security.
Energy security.
Release of all prisoners and deportees.
Implementation of the UN Charter and restoration of Ukraine's territorial integrity and the world order.
Withdrawal of Russian troops and cessation of hostilities.
Justice.
Immediate protection of the environment from ecocide.
Preventing escalation.
Confirmation of the end of the war.
Zelenskyy said that the positive experience with the implementation of the tripartite Black Sea Grain Initiative, in which the three parties are: the UN; Ukraine, Türkiye and the UN; and, on the other side, Russia, Türkiye and the UN.
He believes that each of his 10 propositions can be implemented in a similar fashion, with different states prepared to take the lead in different areas becoming parties to the arrangement.
Journalists fight on their own frontline. Support Ukrainska Pravda or become our patron!