Putin wants more than Xi Jinping offered – ISW
Tuesday, 21 March 2023, 04:50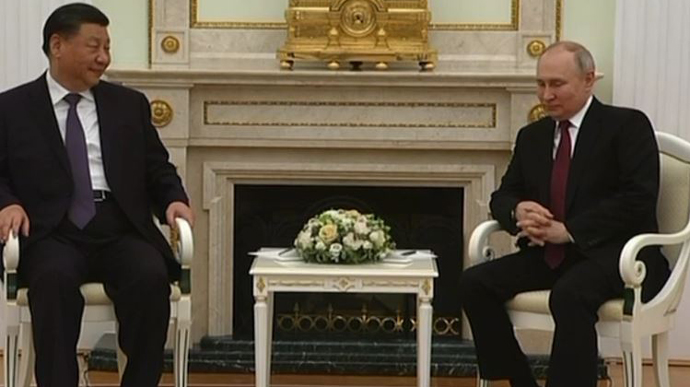 The Institute for the Study of War (ISW) has suggested that Chinese leader Xi Jinping has offered Russian President Vladimir Putin a more reserved vision for Russian-Chinese relations.
Source: ISW
Details: Xi Jinping met with Russian President Vladimir Putin in Moscow on 20 March and offered a more reserved vision for Russian-Chinese relations than what Putin was likely seeking.
Advertisement:
The ISW believes Xi's refusal to explicitly align China with Russia in Putin's envisioned geopolitical conflict with the West is a notable departure from China's declared "no limits partnership" with Russia preceding the start of the Russian invasion of Ukraine.
The ISW stated that Xi's rhetoric suggests that he is not inclined to fully give Russia the economic and political support that Russia needs to reverse setbacks in Ukraine.
Putin and Xi offered somewhat similar visions for increased Chinese-Russian economic partnership, and it is likely that the two will sign bilateral trade and economic agreements during Xi's visit, some of which will likely aim to facilitate schemes for sanctions evasion.
The ISW's report noted that Xi will also likely offer a more concrete proposal for a negotiated settlement to the war in Ukraine, although it remains unclear what his proposal will entail and how receptive the Kremlin will be to it.
The prospects of China supplying Russia with military equipment also remain unclear, the ISW added.
Previously: Putin and Xi Jinping met in the Kremlin.
Background: Chinese leader Xi Jinping is paying a state visit to Russia on 20-22 March.
As The Wall Street Journal reported, Chinese leader Xi Jinping plans to speak with Ukrainian President Volodymyr Zelenskyy for the first time since the start of the Ukraine war, likely after he visits Moscow.
Journalists fight on their own frontline. Support Ukrainska Pravda or become our patron!