Ukraine's National Resistance Center creates map of camps Russia uses for kidnapped Ukrainian children
Wednesday, 29 March 2023, 02:52
The National Resistance Center has compiled a map of the camps where the Russians accommodate deported Ukrainian children.
Source: The National Resistance Center website
Quote: "The map was created on the basis of data from open sources and will be supplemented. As can be seen from the geography of the camps, the process of kidnapping children to the Russian Federation is systematic and prepared in advance.
Advertisement:
That is, despite the fact that Russian propaganda claims a forced step and the evacuation of children, in fact, children are constantly taken out, both from the frontline and from areas remote from hostilities."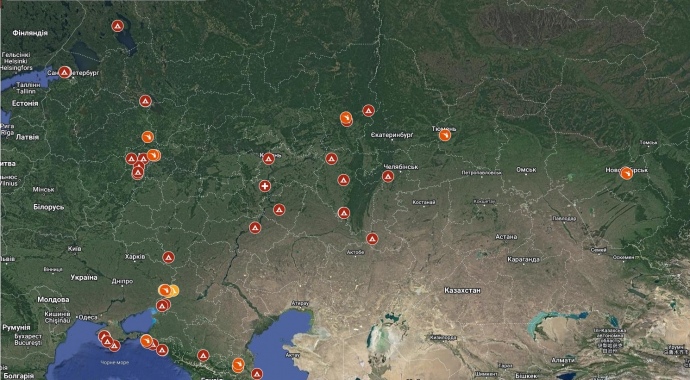 Details: The National Resistance Center reports that the camps include:
orphans, some of whom became orphans as a result of the murder of their parents by the Russians themselves;
children from boarding schools who have relatives in Ukraine, but they are still forcibly deported;
children of parents who did not pass filtration camps and ended up in Russian torture chambers;
other cases.
In the camps, according to a pre-prepared program, children are taught Russian history, a distorted interpretation of the war in Ukraine, and children there also learn the Russian national anthem. In other words, ideological brainwashing is taking place, the National Resistance Center adds.
A total of 45 children camps and 12 military camps are marked on the map, the Center notes.
Journalists fight on their own frontline. Support Ukrainska Pravda or become our patron!