Russians set up defensive positions at several ZNPP reactor buildings
Thursday, 27 April 2023, 09:34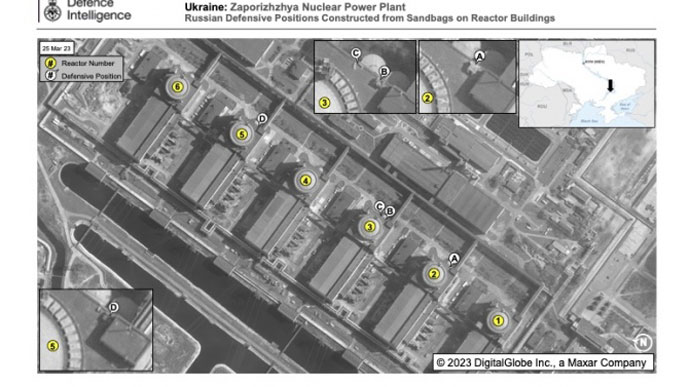 UK Defence Intelligence has stated that as of March 2023, Russian occupation forces had set up their defensive positions at several reactor buildings at the Zaporizhzhia Nuclear Power Plant (ZNPP).
Source: UK Defence Intelligence update on 27 April, as reported by European Pravda
Details: Available satellite images show that by March 2023, Russian troops had set up positions fortified with sandbags on the rooftops of several of the six ZNPP reactor buildings.
Advertisement:
Quote: "Russia has controlled the ZNPP since March 2022. However, this is the first indication of the actual reactor buildings being integrated in tactical defence planning."
More details: Analysts believe this confirms the concern of the Russian command regarding an expected Ukrainian counter-offensive.
Quote: "The move highly likely increases the chances of damage to ZNPP safety systems if fighting takes place around the ZNPP. However, direct catastrophic damage to the reactors is unlikely under most plausible scenarios involving infantry weapons because the structures are very heavily reinforced."
Background: A mission of experts from the International Atomic Energy Agency (IAEA) is at the occupied power plant, and Russia has blocked its rotation several times.
Meanwhile, the US has warned Russia against taking over secret US technologies at the ZNPP.
Journalists fight on their own frontline. Support Ukrainska Pravda or become our patron!