Russian command reshuffles those in charge of logistics and support in Ukraine – ISW
Friday, 28 April 2023, 09:49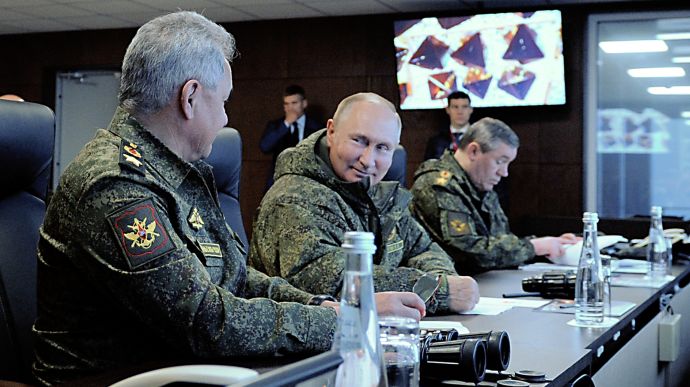 The Russian military command has made changes to the senior officers in charge of logistics and supply in Ukraine, particularly due to the growing fear of a Ukrainian counter-offensive in Russia.
Source: Report from the Institute for the Study of War (ISW)
Details: The ISW reports that the Russian military command is likely reshuffling the leadership of the command-and-control bodies related to force formation and logistics.
Advertisement:
Several well-known Russian military bloggers reported on 27 April that Colonel General Alexei Kuzmenkov, Deputy Head of the Rosgvardia (Russia's National Guard), has replaced Colonel General Mikhail Mizintsev as Deputy Minister of Defence for Logistics.
ISW reports that a Wagner PMC-affiliated military blogger said that Mizintsev's dismissal could be the result of a readiness check of the Northern Fleet conducted by Colonel-General Mikhail Teplinsky, former Airborne Troops commander and Wagner-affiliated officer, who has recently been reassigned to an "unspecified position" in Russia's war against Ukraine.
The blogger stated that Teplinsky's inspection revealed that troops in certain parts of the frontline were not receiving the necessary weapons. Wagner PMC has experienced significant problems with Russian logistics. Teplinsky's role in identifying supply problems may indicate that Russian procurement agencies will once again focus on providing Wagner PMC with the necessary logistical support, as Teplinsky's ties to Wagner are well-known, according to the ISW.
Last September, the ISW reported that Mizintsev had replaced Army General Dmitry Bulgakov as Chief of the Rear and that Mizintsev had previously headed Russia's National Defence Control Centre and overseen the command of the 150th Motorised Rifle Division (the 8th Combined Arms Army, Southern Military District) during Russian operations in the city of Mariupol last spring.
Russian bloggers also reported that Yuri Kuznetsov, former Head of the 8th Directorate of the Russian General Staff (protection of state secrets), will head the Main Personnel Directorate of the Russian Ministry of Defence, and Stanislav Gadzhimagomedov, Deputy Head of the Main Operational Directorate of the Russian General Staff, will replace General Oleg Gorshenin as head of the National Defence Management Centre.
The ISW notes that Russian institutions have not yet officially confirmed these changes.
Quote from the ISW: "The three command organs that are reportedly receiving new leadership as part of this reshuffle are noteworthy because they are associated with managing aspects of Russian force generation, troop sustainment, and logistical oversight.
The Russian National Defense Control Center is the body responsible for coordinating the actions of the Russian Armed Forces and is essentially the nerve center of the entire Russian Ministry of Defense (MoD). Alongside the coordination actions of the National Defense Control Center, the organs responsible for personnel and logistical oversight facilitate critical troop sustainment functions.
These changes also suggest that existing commanders in charge of these functions failed to properly facilitate Russia's winter offensive, which has largely culminated without making substantial gains."
More details: The Institute suggests that the Russian General Staff is hurrying to introduce these changes, as the fear of a Ukrainian counter-offensive is growing in the Russian information space.
However, the ISW believes these changes are unlikely to effectively create the conditions for Russian troops to respond promptly to a Ukrainian counteroffensive. These changes may be part of a long-term effort to reform and formalise the Russian Armed Forces.
To quote the ISW's key takeaways on 27 April:
Western officials expressed confidence in Ukraine's ability to conduct a successful counteroffensive.
Chechen Republic Head Ramzan Kadyrov appears to have launched a renewed campaign for national attention.
Belarusian Defense Minister Viktor Khrenin met with Chinese Defense Minister Li Shangfu and Iranian Defense Minister Mohammad Reza Ashtiani in New Delhi, India on April 27.
Russian forces are reportedly using new tactics to complicate Ukrainian air defenses' ability to detect Russian missiles.
Russian forces conducted defensive operations in the Kupyansk direction and limited ground attacks near Kreminna.
Russian forces did not make any confirmed gains in or around Bakhmut but may be transferring additional reserves to the Bakhmut area.
Russian forces continued offensive operations along the Avdiivka-Donetsk City line.
Russian forces are further militarizing the Zaporizhzhia Nuclear Power Plant (ZNPP) to defend against possible Ukrainian counteroffensive operations.
The Washington Post reported that leaked US intelligence documents state that Russian military leaders aim to enlist 815,000 soldiers while balancing concerns about critical labor shortages.
Ukrainian partisans conducted three separate attacks in occupied territories on April 26-27.
Journalists fight on their own frontline. Support Ukrainska Pravda or become our patron!