Putin is afraid he will be killed, and we are getting closer – Ukraine's Defence Intelligence
Wednesday, 24 May 2023, 20:08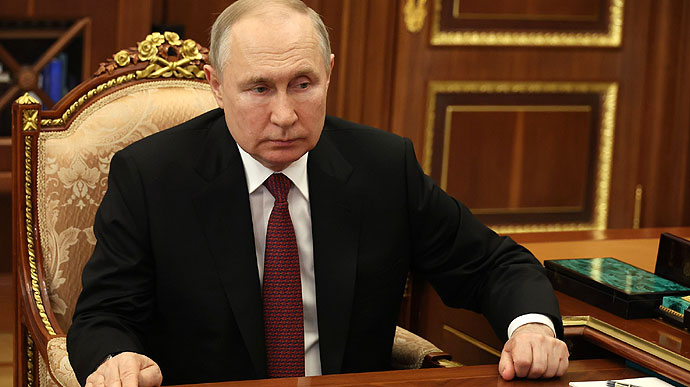 Russian dictator Vladimir Putin is top of the list of "candidates" for elimination by the Ukrainian special forces, and the reason the Crimean Bridge has not yet been destroyed is to give the Russians a way to flee the peninsula.
Source: Vadym Skibitskyi, Deputy Head of Defence Intelligence of the Ministry of Defence of Ukraine, in an interview with the German publication Welt, quoted by Ukrinform
Quote from Skibitskyi: "He [Putin - ed.] notices that we are getting closer to him, but maybe he is also afraid of being killed by his own people... He is only now starting to stick his head out, and if he does that, we can't be sure that it is really him."
Advertisement:
Details: When asked whether Ukraine's Defence Intelligence was behind the attacks on Russian propagandists, Skibitskyi said they were not important targets; the special forces' priority is to destroy the unit commander who ordered his men to attack. In particular, he said, Ukrainian intelligence is trying to eliminate Wagner Group leader Yevgeny Prigozhin.
Skibitskyi also added that Defence Intelligence closely monitors all movements, command centres and front-line positions.
In addition, he confirmed that attacks on critical infrastructure facilities on Russian territory are the work of various Ukrainian agencies. This is done in order to interrupt the occupiers' supply chains.
As far as temporarily occupied Crimea is concerned, Skibitskyi said there is not much critical infrastructure that could be destroyed to prevent weapons from being delivered.
However, he noted that there are both intelligence representatives and partisans there who are "quite capable of striking".
Skibitsky noted that the Crimean Bridge is still standing because Ukraine wants to give the Russians an opportunity to flee the peninsula.
Journalists fight on their own frontline. Support Ukrainska Pravda or become our patron!