Freedom of Russia Legion is recruiting Russians to storm Moscow – The Times
Wednesday, 31 May 2023, 10:08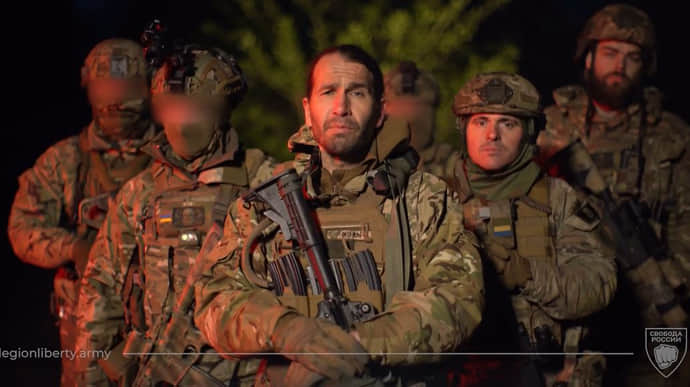 A fighter of the Freedom of Russia Legion with the call sign Caesar said that the Russian partisans, who attacked the Kremlin's forces from the territory of Ukraine, have "thousands" of people willing to join their ranks and will continue to raid the border until their forces are large enough to storm Moscow.
Source: The Times
Quote: "We have serious capabilities. We have mortars, armoured vehicles, stinger manpads, portable anti-tank systems and a highly effective drone reconnaissance unit."
Advertisement:
Details: He said the Freedom of Russia Legion is the size of a battalion but plans to expand as an increasing number of Russians realise they can fight Russian dictator Vladimir Putin and prevail.
A battalion typically consists of 500-1,000 soldiers.
Quote: "We will keep performing these harassment raids to the point we have our own piece of Russian territory, so that real Russian sons and daughters, real patriots, will be able to join us. Once that happens we will quickly grow our force and numbers and it will end with the Kremlin campaign."
Details: Caesar joked that the weapons for his military formation were purchased from AliExpress and eBay, as well as from Russian military stores.
He emphasised that all of the members of his Legion were Russian citizens but admitted that they had served in the Ukrainian Armed Forces: "We are not a band of criminals or a private military company like Wagner. We fight within the structure of Ukrainian forces. Our main goal and task is the defence of Ukraine and de-occupation of its territories. After that we will go to free our home".
He added that the raid on Russian territory was intended to support Ukraine's planned counter-offensive while also acting as a recruitment campaign and encouraging Russians to overthrow Putin before the war comes to them.
According to him, Russians enter Ukraine through certain neutral border states. "We have a steady flow of incoming recruits and it grows. More and more Russian people understand that this war is criminal and it should be stopped".
Alexei Baranovsky, a spokesman for the Legion's political wing, told The Times that the Legion is "a politically neutral organisation with no ideological stance. [Its] only task is to overthrow Putin's regime."
As he stated, the legion is biding its time: "We aren't saying we will get to Moscow tomorrow. This will happen when the Ukrainian armed forces liberate Crimea. Putin's political system will be paralysed by defeat in Crimea. This is when we will need to strike a devastating blow against Moscow. This is what we are preparing for."
Background:
On 22 May, the Russian Volunteer Corps and Freedom of Russia Legion announced that they had crossed the border and were "liberating" the settlements of Belgorod Oblast from the current Russian authorities: they started with the villages of Kozinka and Gora-Podol. These military formations also stated they were seeking the "liberation" of all of Russia.
The day after that, the Russian Ministry of Defence announced that all participants in the attack were killed, as well as the cancellation of a counter-terrorist operation in the oblast.
The Ukrainian Defence Intelligence confirmed that it cooperates with the Russian Volunteer Corps, including the exchange of information.
Journalists fight on their own frontline. Support Ukrainska Pravda or become our patron!