Defence Intelligence explains why its chief helped Ukrainian MP go abroad
Wednesday, 31 May 2023, 20:47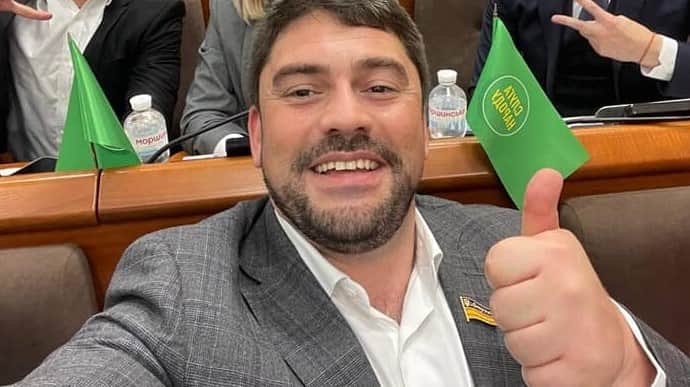 Andrii Yusov, the representative of the Defence Intelligence of Ukraine, confirmed that the Defence Intelligence indeed helped Vladyslav Trubitsyn, a 40-year old member of the Kyiv City Council and a member of the Sluha Narody (Servant of the People) political faction, leave Ukraine, but noted that it was forced to do so.
Source: Andrii Yusov in a comment to Skhemy (Schemes), a project by Radio Liberty
Quote: "The letter [by the chief of Defence Intelligence – ed.] was issued on request of another structure of the security and defence forces of Ukraine within the framework of interagency cooperation with this structure and in response to their official request. I cannot disclose the structure at the moment. Perhaps this information can be made public later."
Advertisement:
Details: Yusov noted in his commentary that although Trubitsyn was served with a notice of suspicion back in February 2022, the National Anti-Corruption Bureau of Ukraine did not disclose his name officially.
Trubitsyn's rights to cross the border were not restricted on 13 May, the time he crossed the border. His passport was not seized, and a mark indicating that he was only allowed to cross the border with the investigator's permission was not put on it. Herewith, the judges have the right to restrict a person's right to cross Ukraine's border at the investigators' request. If such decisions are made and the State Border Guard Service of Ukraine is informed of these requirements, it fulfils them.
In addition to this, within the criminal case, the investigators can receive and, if possible, publish information about persons crossing the border. Since such letters do not concern the activity of the Defence Intelligence, the intelligence agency cannot check the information about such persons in closed databases.
Quote from Yusov: "As far as we know, Trubitsyn indeed helped other security and defence structures on a voluntary basis, but this does not in any way justify his possible fleeing from law enforcement.
We hope that he will return to Ukraine quickly and voluntarily and will not distract the security and defence forces of Ukraine from their work, which would otherwise be obliged to persecute him."
Background:
Earlier, Skhemy discovered that Trubitsyn had allegedly gone on a four-month-long business trip with the help of a letter from Kyrylo Budanov, the head of the Defence Intelligence of Ukraine.
On 30 May, it was revealed that Trubitsyn had left Ukraine and did not show up to the Supreme Anti-Corruption Court, so the Special Anti-Corruption Prosecutor's Office requested to put him on the international wanted list.
Journalists fight on their own frontline. Support Ukrainska Pravda or become our patron!