Sergeant Major meets with Zelenskyy and speaks up about disagreements with his commanders
Tuesday, 11 July 2023, 20:15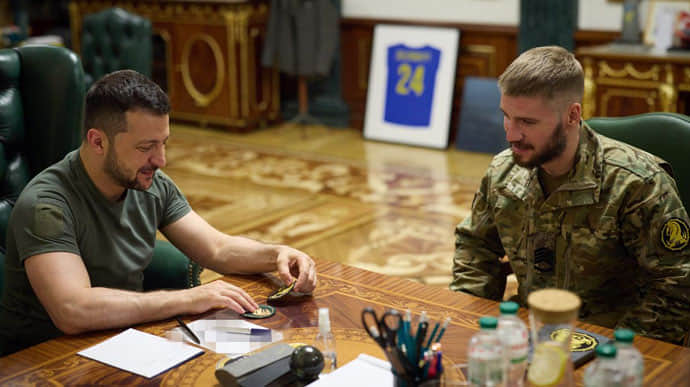 Valerii Markus, Sergeant Major from the 47th Separate Mechanised Brigade of the Armed Forces of Ukraine "Magura", has asked to be demoted because of the ongoing disagreement with the brigade's commanders.
Source: Valerii Markus on Facebook
Quote: "I'm totally opposed to the decisions that have been made regarding the deployment and development of the 47th Brigade. We haven't been allowed to develop the military unit in line with the values we have stated at the time it was being created. I no longer have opportunities to influence or rectify the situation. I no longer think it is appropriate for me to remain the brigade's sergeant major.
Advertisement:
I can't abandon my people, so I'm VOLUNTARILY taking the lowest rank to be closer to them on the battlefield.
The commander has received my resignation notice.
Semper Audentes (Always Brave – ed.)!"
Details: Markus, who met with President Zelenskyy in the latter's office in June, believes that the work of his brigade's sergeant corps is routinely undermined; the command has failed to understand the importance of the soldiers' morale and to champion the brigade's interests before the higher command; and the incompetence of senior officers goes unpunished.
Markus said that his brigade's deputy commander was an "amoral degenerate" and said that working alongside him was "debasing" his honour and dignity.
Background:
On 28 June, Valerii Markus posted on Facebook about a day of assaults and a night spent alongside the dead bodies of Russian soldiers; Ukraine's Commander-in-Chief Valerii Zaluzhnyi left a moving comment, asking Markus to make sure he had body armour on at all times.
Ukrainian President Volodymyr Zelenskyy met with Markus that same week to discuss the reform of the sergeant corps.
The 47th Separate Mechanised Brigade is engaged in operations in Zaporizhzhia Oblast.
Journalists fight on their own frontline. Support Ukrainska Pravda or become our patron!