Soltsy airfield likely attacked from Russian territory – UK intelligence
Tuesday, 22 August 2023, 10:36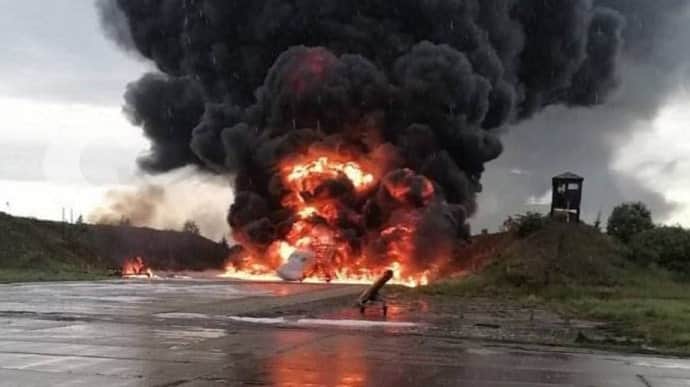 UK Defence Intelligence has suggested that the drone attack that destroyed a Tu-22M3 bomber at the Soltsy airfield in Russia's Novgorod Oblast may have been carried out from Russian territory.
Source: UK Ministry of Defence, as reported by European Pravda
Details: As UK Defence Intelligence stated, "copter UAVs are unlikely to have the range" to reach the Soltsy facility from outside Russia.
Quote: "This is at least the third successful attack on LRA airfields, again raising questions about Russia's ability to protect strategic locations deep inside the country."
More details: UK Defence Intelligence also pointed out that Russia has frequently used Tu-22M3 bombers to launch inaccurate Kh-22 heavy anti-ship missiles at Ukraine, and has also conducted intensive bombardment of Mariupol with unguided bombs.
Background:
Earlier it was reported that as a result of a drone attack on an airfield in Russian Novgorod Oblast, Ukraine was able to completely destroy a strategic nuclear bomber belonging to the Russian Armed Forces for the first time.
On the morning of 19 August, the Ukrainian Defence Forces attacked a military airfield in Novgorod Oblast of Russia with drones, damaging at least one aircraft.
Ukrainska Pravda is the place where you will find the most up-to-date information about everything related to the war in Ukraine. Follow us on Twitter, support us, or become our patron!