Ukraine's Foreign Ministry reacts to further detentions of Crimean Tatars
Sunday, 27 August 2023, 00:20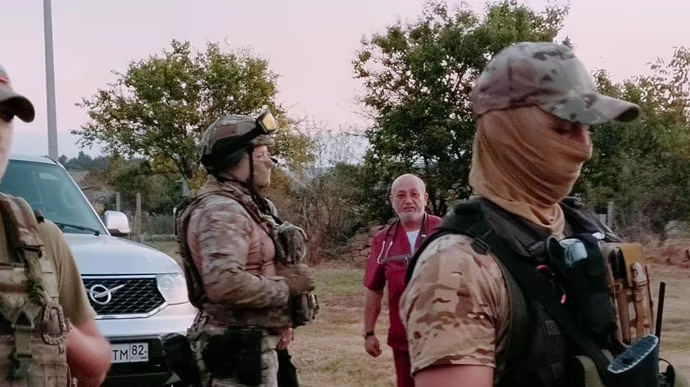 The Ministry of Foreign Affairs of Ukraine has condemned the detention of Crimean Tatars on Ukraine's Independence Day and called upon the international community to "keep putting pressure on Russia".
Source: a commentary of the Ministry of Foreign Affairs of Ukraine concerning the latest detentions of Crimean Tatars
Quote: "The Ministry of Foreign Affairs of Ukraine strongly condemns the persecution of Ukrainian citizens by the occupying administration of Crimea on entirely trumped-up charges, and calls upon the international community, including the participants of the International Crimea Platform, to continue putting pressure on Russia in order to secure the immediate release of all Ukrainian citizens who have been illegally convicted by the occupying regime in Crimea, and to introduce sanctions restrictions against officials involved in persecuting citizens of Ukraine."
Details: The Foreign Ministry noted that the occupying administration and collaborators in Ukrainian Crimea used the date of 24 August, when Independence Day is celebrated in Ukraine, as an excuse for a new wave of repressions against the Tatars of Crimea.
At 04:00, members of Russian security forces broke into the homes of Crimean Tatars in the city of Bakhchysarai and the Bakhchysarai district to conduct searches.
Members of the Federal Security of Russia (FSB) have detained six people – Ruslan Asanov, Seydamet Mustafayev, Remzi Nimetulayev, Abdulmedzhit Seitumerov, Ametkhan Umerov and Eldar Yakubov. Abdulmedzhit Seitumerov is the brother of two political prisoners from Bakhchysarai who were arrested in March 2020 and sentenced to 14 and 17 years of imprisonment respectively. All the detainees are activists from the Crimean Solidarity organisation.
Within 12 hours on 25 August, the criminal occupying authorities of Crimea had drawn up protocols for over twenty detained Crimean Tatars who had come to the Kyiv District Court in the city of Simferopol to support their family members and friends. All of them were handed subpoenas at the police station.
Among the detainees is 64-year-old Remzi Zudiev, father of journalist and human rights activist Luftiye Zudieva. Although he has several confirmed chronic illnesses, he was denied the right to take the medicine he needs.
On 26 August, the so-called court issued a ruling on the arrests of several Crimean Tatars under the Code of Administrative Offences for periods of between four and seven days.
Ukrainska Pravda is the place where you will find the most up-to-date information about everything related to the war in Ukraine. Follow us on Twitter, support us, or become our patron!