Kakhovka dam must be repaired – Zelenskyy
Sunday, 27 August 2023, 20:39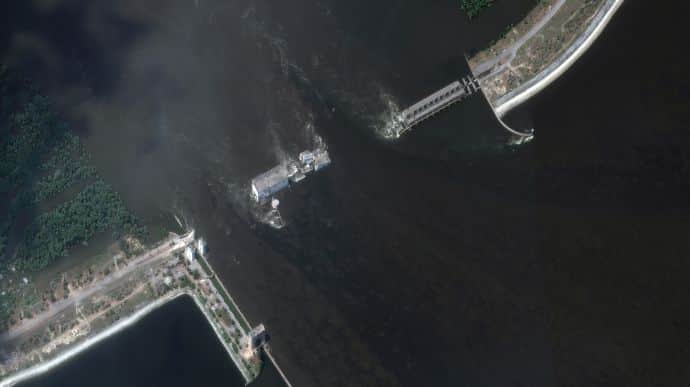 Ukraine will repair the Kakhovka dam destroyed by the Russians at the beginning of June.
Source: Volodymyr Zelenskyy, President of Ukraine, in an interview for Natalia Moseichuk, broadcast in the 24/7 newscast on 27 August
Quote: "We must repair the Kakhovka dam. If we do not receive financial aid, then we will have to allocate a billion-billion and a half hryvnias [approximately US$27m to US$40.5m], I do not know the exact amount. But we must do this because people need water, because there will be no life there without this water.
Yes, we are working on alternative solutions, and some of them are ready but [there are still problems – ed.] in the city of Kryvyi Rih, in Dnipropetrovsk Oblast, in the settlement of Marhanets…We are improvising to find temporary solutions but they are not comprehensive and long-lasting. So we will rebuild this dam."
Details: Recently Ihor Klymenko, Minister of Internal Affairs of Ukraine, stated that the Kakhovka Hydroelectric Power Plant (HPP) cannot be repaired. 11 spans of the 28 spans of the upper part of the dam were destroyed as a result of a Russian terrorist attack.
Zelenskyy spoke about the necessity to repair the Kakhovka dam in the context of financial aid from other countries allocated to Ukraine for rebuilding and assistance.
He said that €50 billion over 4 years is not all funds the EU will allocate to Ukraine as this will not be enough for rebuilding.
Zelenskyy also hopes that many loans will be restructured, and stresses that the interest rate is not high.
Ukrainska Pravda is the place where you will find the most up-to-date information about everything related to the war in Ukraine. Follow us on Twitter, support us, or become our patron!