Court remands Ukrainian oligarch Ihor Kolomoiskyi in custody with option of bail
Saturday, 2 September 2023, 20:37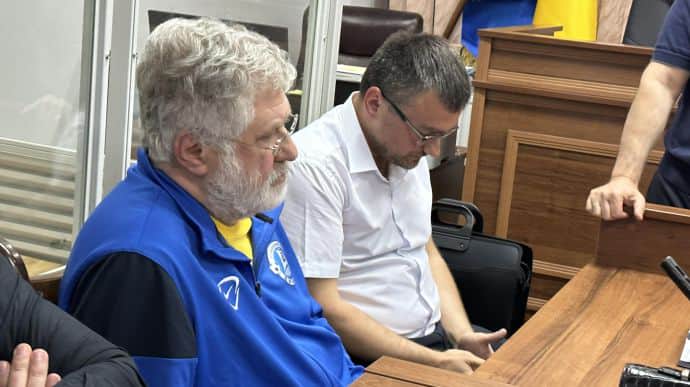 The pre-trial restraint chosen by Kyiv's Shevchenkivskyi District Court for the oligarch Ihor Kolomoiskyi is 60 days of detention with the option to pay bail of UAH 510 million [approximately $13,747,376 – ed.].
Source: Ukrainska Pravda's correspondent from the courtroom
Êîëîìîéñüêîãî áåðóòü ï³ä âàðòîþ ç ìîæëèâ³ñòþ âíåñåííÿ çàñòàâè 509 ìëí ãðí pic.twitter.com/k7QDkJupX9

Advertisement:

— Roman Kravets (@RomanKravets) September 2, 2023
Details: The court partially granted a request by a detective from the Economic Security Bureau that Kolomoiskyi be detained as a pre-trial restraint.
Kolomoiskyi was remanded in custody for 60 days, until 31 October. The judge ordered the oligarch to be taken into custody in the courtroom.
Bail was set at 190,000 times the living wage, or UAH 509,960,000 [about $13,746,298 – ed.].
Ïðîêóðîð ïîêàçîâî â³äìîâèâñÿ â³ä êîìåíòàð³â ó ñïðàâ³ Êîëîìîéñüêîãî pic.twitter.com/48KJkgYrNK

— Roman Kravets (@RomanKravets) September 2, 2023
The prosecutor refused to comment on the decision. Kolomoiskyi himself did not say a word.
Êîëîìîéñüêèé ïîêèäຠñóä pic.twitter.com/abBedHcgqP

— Roman Kravets (@RomanKravets) September 2, 2023
Update: Later, Lysak, Kolomoiskyi's lawyer, said in a comment to the Ukrainska Pravda that the lawyers would file an appeal against the court's decision to choose a pre-trial restraint.
"We are not considering the issue of paying a bail as of now. We will wait for the full decision of the court. And, of course, we will file an appeal," the lawyer said.
Background:
On Saturday, 2 September, the Security Service of Ukraine (SSU), the Economic Security Bureau and the Prosecutor General's Office served oligarch Ihor Kolomoiskyi with a notice of suspicion under Articles 190 and 209 of the Criminal Code: fraud and legalisation (laundering) of assets obtained by criminal means.
The prosecutors intended to request that Kolomoiskyi be placed in custody with the option of bail equivalent to the estimated damage.
The Shevchenko District Court of Kyiv considered the pre-trial restraint for oligarch Ihor Kolomoiskyi behind closed doors at the request of Kolomoiskyi's lawyer. However, journalists were allowed to attend the announcement of the court's decision.
Ukrainska Pravda is the place where you will find the most up-to-date information about everything related to the war in Ukraine. Follow us on Twitter, support us, or become our patron!