Wagner Group contract soldiers come back to Ukraine's east
Wednesday, 27 September 2023, 13:35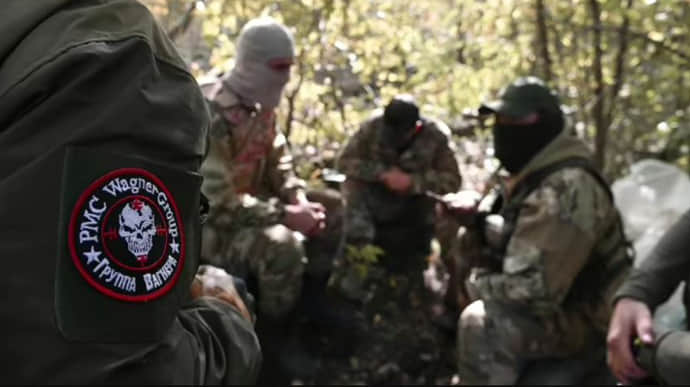 Former mercenaries of the Wagner Group who were in Belarus signed a contract with the Russian Ministry of Defence and moved to the eastern front in Ukraine. Some of them went to Africa.
Source: Illia Yevlash, spokesperson for the Eastern Grouping of Forces, in a comment to Ukrainska Pravda; CNN; Andrii Demchenko, spokesperson for the State Border Guard Service, in a comment to Ukrainska Pravda
Quote from Yevlash: "Former members of the Wagner private military company are now actually present on the territory of the Eastern Grouping of Forces.
Advertisement:
They are taking part in the fighting. In particular, they are coming from the territory of Belarus, where they had their camps.
They are now being disbanded. These servicemen are sent to different units – some of them are sent to Africa, some re-sign contracts with the Russian Defence Ministry and participate [in the war] in various positions, including instructors. Some go to regular combat units.
They do not pose such a threat as they did, for example, a year ago, due to the loss of their main leader, Yevgeny Prigozhin."
Details: The Ukrainian Border Guard Service clarified that there were more than 6,000 Wagnerites in Belarus. Currently, as Demchenko said, about 500 of them remain in Belarus.
Earlier, an aerial reconnaissance operator of the Code 9.2 unit of the 92nd Brigade of the Armed Forces of Ukraine told CNN that Wagnerites had returned to the Bakhmut front.
The soldier said the mercenaries quickly changed commanders and returned to Bakhmut.
Background:
Earlier, it was reported that the Russian Guard is recruiting former prisoner-fighters of the Wagner Group to subdue the remaining Wagner fighters and at the same time take care of Russia's internal security.
Following the death of Wagner Group leader Yevgeny Prigozhin and other senior figures in a plane crash in August, the Kremlin began to say that Wagner does not legally exist, and they could not comment on the company's future.
The Russian Defence Ministry issued an order obliging all "volunteer formations" to sign contracts with the ministry last summer so that all formations would come under the authority of Defence Minister Sergei Shoigu.
Prigozhin refused to sign the contract and "marched" on Moscow.
After the "mutiny" failed, the mercenaries left the territory of Russia for Belarus and set up camp there.
Prigozhin's mercenaries destroyed Ukraine's Bakhmut and occupied the ruins.
Ukrainska Pravda is the place where you will find the most up-to-date information about everything related to the war in Ukraine. Follow us on Twitter, support us, or become our patron!