US, Poland and UK help Ukraine most in war with Russia – survey
Thursday, 26 October 2023, 18:22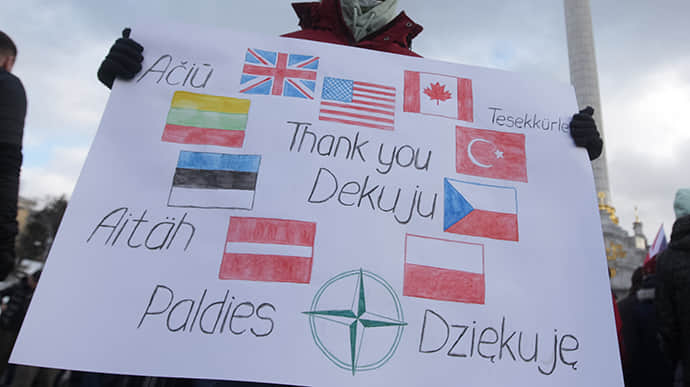 Ukrainians most frequently name the US, Poland and the UK as the countries which helped Ukraine the most in the resistance against the full-scale Russian invasion by a noticeable margin.
Source: survey by the Rating Sociological Group on the order of the International Republican University published on 26 October, as reported by European Pravda
During the survey, Ukrainians were asked to name three countries or international institutions which, in their opinion, provided most support for Ukraine in the conditions of the Russian military aggression, without possible response options.
Advertisement:
The absolute majority – 69% – mentioned the US, and then, by noticeable margin, there are Poland (51%) and the UK (44%). Interestingly, these countries were at the top of the rating in previous surveys as well but in comparison with the one conducted in February 2023, the mentions of Poland have dropped significantly (from 71%).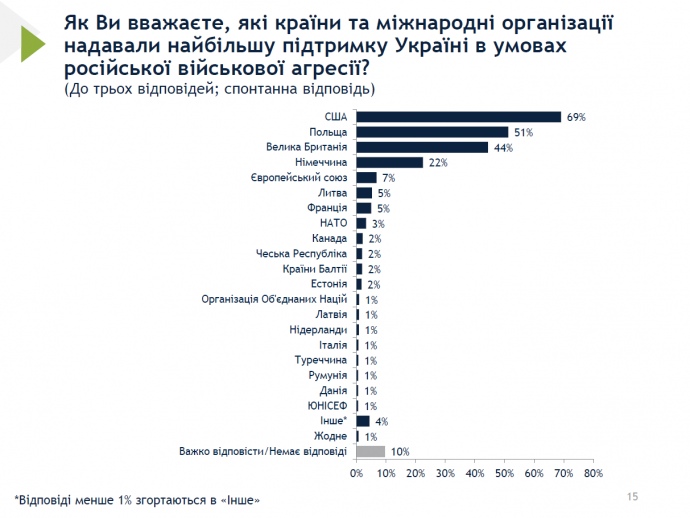 Germany was also often mentioned (22%), moreover, the frequency of these mentions has risen significantly since April 2022 when only 1% of respondents called it an active donor of aid for Ukraine.
Over 2% of Ukrainians who participated in the survey have also mentioned the EU (7%), Lithuania and France (5% each), NATO (3%), Canada, the Czech Republic, the Baltic countries and Estonia separately (2% each). Over 1% mentioned the UN, Latvia, the Netherlands, Italy, Turkyie, Romania, Denmark and the UN Children's Fund.
Only 1% of the respondents were not able to name a single country or organisation, which, in their opinion, provided the most support for Ukraine during the Russian military aggression. The division of the respondents by different age groups and regions is approximately the same.
It should be mentioned that even before the full-scale war, it was possible to single out six leaders among the countries Ukrainians considered as "friendly". Four of them had similar indicators: these are the US (28%), Poland (26%), Germany (23%) and Belarus (21%). They were followed by Lithuania and Georgia (14% each).
Support UP or become our patron!