Bombardment of Hroza village became most massive Russian war crime in Kharkiv Oblast
Thursday, 5 October 2023, 18:56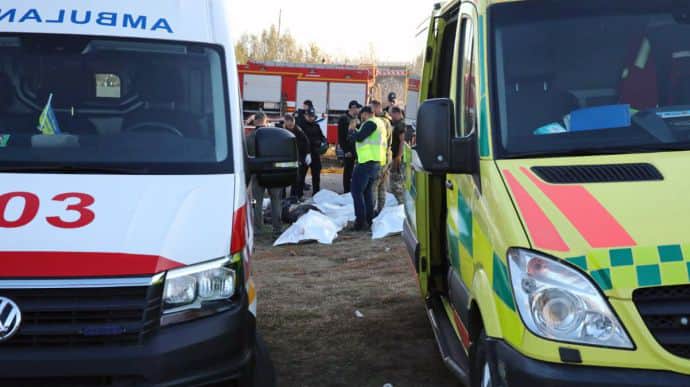 The Russian attack on the village of Hroza on 5 October became the most massive war crime committed by the Russians in Kharkiv Oblast since the beginning of Russia's full-scale invasion of Ukraine.
Source: Oleh Syniehubov, Head of Kharkiv Oblast Military Administration, on Telegram
Quote: "The terrorist attack by the Russian military on the village of Hroza became the bloodiest crime of Russians in Kharkiv Oblast for all time since the beginning of the full-scale invasion. The latest data shows that this crime claimed the lives of 51 civilians, and six people were injured."
Advertisement:
Details: Days of mourning were declared in Kharkiv Oblast from 6 to 8 October.
Background:
At around 13:30 on Thursday, the Russians struck a café in the village of Hroza, Kupiansk district, Kharkiv Oblast. So far, 51 people are known to have been killed in the attack.
Ihor Klymenko, Ukraine's Minister of Internal Affairs, said that a memorial dinner for a deceased resident was being held in the café. He added that the hit was so accurate that it is suspected that the location was given to the Russians by a local resident.
Ukrainska Pravda is the place where you will find the most up-to-date information about everything related to the war in Ukraine. Follow us on Twitter, support us, or become our patron!