Odesa missile strikes: emergency workers put out fire, death toll rises
Saturday, 23 April 2022, 18:47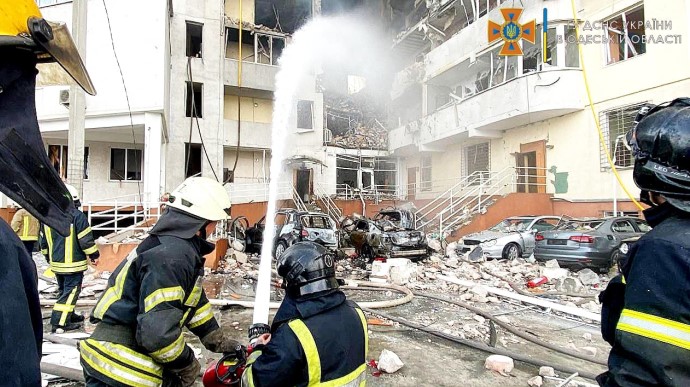 Svitlana Kizilova — Saturday, 23 April 2022, 18:47
A multi-storey building caught fire following a missile strike on Ukraine's southern port city of Odesa on 23 April. However, emergency workers managed to get the fire under control, and the rubble is now being cleared.
Source: State Emergency Service of Ukraine
Advertisement:
Details: Russian rocket fire hit a multi-storey building in Odesa, killing 6 people (5 were previously known about), including a baby. After the missile strike, the building caught fire.
Emergency workers managed to put out the fire within a few hours.
Two people have been rescued from under the rubble and 86 people have been evacuated. The State Emergency Service of Ukraine sent 96 emergency workers and 18 units of equipment. The rescue operation is ongoing.
Quote: "On 23 April at about 14:35, as a result of enemy bombardment of the Kyiv district of Odesa, a missile hit a sixteen-storey apartment building, causing the flats on the 4th and 5th floors to burst into flames. At 15:54 the fire was contained to an area of 220 sq. m. It was extinguished at around 17:00.
Six people are currently known to have died, including one child, and 18 people were injured."
Background: A Russian missile penetrated an apartment building around the 3rd-4th floors and got stuck inside. According to preliminary information, the missile's warhead did not explode. All the residents were evacuated from the building, and bomb technicians are working at the site.
Russian forces launched a missile strike against Odesa, and two air targets were shot down by the air defence system.