Medvedev says Western sanctions against Russia may be grounds for war
Thursday, 30 June 2022, 22:38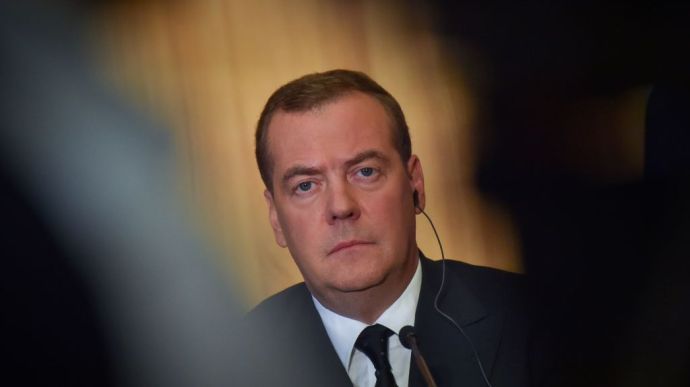 KATERYNA TYSHCHENKO – THURSDAY, 30 JUNE 2022, 22:38
Dmitry Medvedev, deputy head of the Security Council of the Russian Federation, said that Western sanctions against Russia could be perceived as an act of international aggression and even as a "casus belli" [an act or situation that provokes or justifies a war - ed.].
Source: RIA Novosti, a Kremlin-aligned Russian news outlet, quoting Medvedev during the plenary of the 10th St Petersburg International Legal Forum
Advertisement:
Quote from Medvedev: "I would like to point out once again that under certain circumstances such enemy actions could be perceived as an act of international aggression. And even as a casus belli.
In response, the state has a right to individual and collective self-defence."
Details: Medvedev claimed that "the boorish and cynical practice of unilateral restrictive measures against Russia, whose illegality has been time and again stressed on all levels, is akin, as our opponents themselves put it, to a declaration of economic war."
Reference: For eight years, Russia has engaged in hybrid warfare against Ukraine in Donbas. Russia has also annexed Ukrainian Crimea. On 24 February 2022, the Russian Federation began a full-scale invasion in Ukraine, which has already claimed the lives of many civilians. Western sanctions were introduced in response to the Russian invasion. However, Russia, which continues to wage the war in Ukraine, is attempting to represent the Western sanctions as an act of economic aggression against itself.
Previously: Medvedev has said that there are four scenarios in which Russia might use nuclear weapons, including an act of aggression against Russia or its allies which would threaten the existence of the country. Medvedev later stated that sanctions against Russia might count as an act of aggression by Western countries.
Medvedev also declared that NATO's "pumping" of weapons into Ukraine [so that it can better defend its territory against Russian aggression - ed.] increases the likelihood of a full-scale nuclear war.