Eighteen torture chambers discovered in Kharkiv Oblast, over 1,000 Russian war criminals identified
Friday, 23 September 2022, 18:43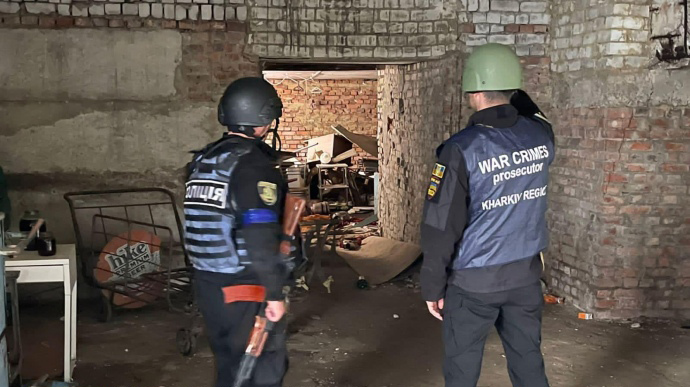 IRYNA BALACHUK – FRIDAY, 23 SEPTEMBER 2022, 18:43
Law enforcement officers have found 18 places in Kharkiv Oblast where the occupiers tortured Ukrainian citizens, and they have established the identities of over 1,000 Russian soldiers who committed crimes in the occupied territories.
Advertisement:
Source: Serhii Panteleiev, first deputy chief of the Main Investigative Department of the National Police, in a briefing at the Military Media Center on 23 September
Quote from Panteleiev: "Over 1,500 inspections of war crime sites were conducted in Kharkiv Oblast. During investigations in the liberated settlements, police discovered 18 places where the Russians illegally detained and tortured Ukrainian citizens. The premises of these torture centres have already been inspected, and evidence of war crimes has been recorded and collected."
Details: He added that Ukraine's National Police has created a register of Russian servicemen and illegal armed formations of Russian occupiers who had been posted to Kharkiv Oblast. Over 1,000 individuals whose identities have been established have already been added to this register, with their surnames, code names and photographs.
Currently, the police are working with local residents who were there during the occupation to gain information about these persons.
Panteleiev provided assurances that every war criminal will be identified and his guilt proven.
He added that law enforcement officers have also checked over 2,000 people for evidence of collaboration.
Panteleiev noted that since the beginning of Russia's large-scale invasion of Ukraine, National Police investigators have launched over 1,400 criminal investigations into evidence of collaboration. As part of these criminal investigations, 235 persons were notified that they were under suspicion. 138 indictments have already been submitted to the court - the perpetrators will be punished accordingly.
Since the beginning of the full-scale invasion of the Russian Federation, police investigators have initiated over 34,000 criminal proceedings on charges of war crimes committed by the Russian occupiers and members of the illegal armed formations of the LPR (self-proclaimed Luhansk People's Republic) and the DPR (self-proclaimed Donetsk People's Republic), and Russian private military units.
According to Panteleiev, the police have recorded a significant number of such crimes during their work in the liberated parts of Kyiv, Zhytomyr, Sumy and Chernihiv oblasts. Currently, law enforcement officers are focusing their efforts on recording crimes in Kharkiv Oblast.
Background:
On 16 September, Ihor Klymenko, the chief of Ukraine's National Police, announced that 10 torture chambers had been discovered in the liberated territory of Kharkiv Oblast.
On 17 September, it became known that during the occupation of the village of Kozacha Lopan in Kharkiv Oblast, the Russian army tortured people in the basement of the so-called People's Militia.
Journalists fight on their own frontline. Become our patron, support our work!